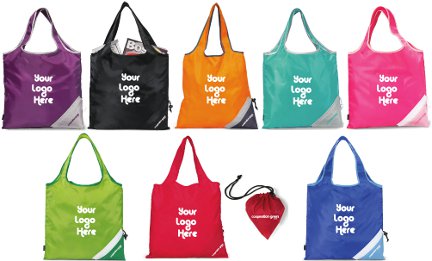 Our contest isn't over yet! Join the six great schools and nonprofits already entered to win 200 Drawstring Latitudes Foldaway Shopper bags! Check out these awesome entries (so far!):
Gift of Life Bone Marrow Foundation: Hi there, I work with the Gift of Life Bone Marrow Foundation, a non-profit organization that seeks to find matches for patients in need of a bone marrow transplant. Using the bags for fundraising would help us process the 13,000 donor kits on our waiting list! Registering one volunteer donor costs us $54 and we do not require new donors to pay the registration fee; winning these bags would mean being able to raise funds for processing kits & spreading awareness!
TLC Meals on Wheels: TLC Meals on Wheels distributes 150 big bags of donated groceries at least once a month to low-income seniors and adults with disabilities. Volunteers deliver these to homebound individuals. It's a huge help when we have proper, sturdy bags with handles for these deliveries. We re-use the bags as recipients send them back to be refilled. Thanks!
Indian Creek Elementary: My 5th Grade Class at Indian Creek Elementary is researching our local watersheds. We've learned that one of the greatest contributors to our polluted water is plastic bags. As an adult, I had no idea the awful legacy of trash we are leaving our children's children to clean up. We vow to make a change. My students could use the 200 free bags to encourage our families to reuse, reuse, reuse! We want to do all we can to help San Antonio's "Change is in the Bag" recycling campaign.
Manteno High School: We are a freshman class trying to be eco friendly and do something completely different as a fundraiser and would love to win the 200 bags. Go manteno high school freshman
Birth Roots Bellytobaby: Birth Roots Bellytobaby should win the logo bags because they help families get on a positive trajectory from the earliest days of parenting…creating social change throughout the entire community. Everyone benefits!
Paws and Stripes: Paws and Stripes should win the fundraiser bags because they are not only helping veterans, they are also helping dogs. Paws and stripes organization helps veterans with Post Traumatic Stress Disorder and Traumatic Brain Injuries by rescuing/adopting dogs from animal shelters and training them to assist the veteran with anxiety issues, seizures, mobility, and any other need the veteran has. All of this is done at no cost to the veteran. These veterans fought for us, so lets show them how thankful we are!
If you'd like to enter to win, just 'like' us on Facebook, post why your school or nonprofit should win the bags, and tell everyone to 'like' your post—and have them tell everyone too. On October 14, the post with the most 'likes' wins! It's that simple!
If you'd like to vote for one of these great causes, just 'like' us on Facebook, find the post for that nonprofit and 'like' the post.  I'm sure they'll appreciate your support!
There is still plenty of time to submit an entry or vote for your favorite school or nonprofit organization. Visit Cooperation-Green.com or facebook.com/bulletinbag