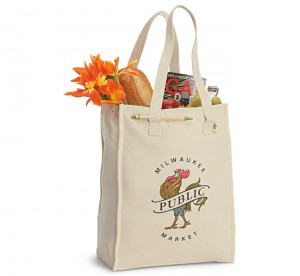 Every week we pick two of our reusable bags and have our staff members put them through the wringer. We'll comment on the outcomes here (and encourage our clients to do the same!). This week, we've chosen two great canvas grocery bags: Full Sized Recycled Cotton Market Bag and Full Size Organic Market Bag. In addition, these two bags are on sale until the end of the month!
We love canvas shopping bags because they are strong, durable, and natural. Canvas reusable bags can be machine washed with regular laundry in cold water. Best of all, our wholesale canvas bags provide the ideal 'canvas' for logo printing. Custom shopping bags like these also have high perceived value, making them a great vehicle for your branding.
The Full Sized Recycled Cotton Market Bag is a staff favorite. It's a great size for the grocery store, and the handles have built-in pen holders for those of you who keep a list at the market. The bag has nice-sized handles that are perfect for shoulder carrying. This bag also has some nice details that give it a higher end feel, like the cotton webbed handles and binding. It also has a full 3-sided gusset which gives it a more 'boxy' shape making it easier to load at the grocery store (most cotton canvas bags have a bottom gusset with a flat side seam, so this is a rather unique feature in a canvas bag). It is also available in natural cotton, black cotton and lime green cotton.
The Full Size Organic Market Bag is made from organic cotton. It's better suited for quick store trips, as the 12" handles are meant for hand carrying. This bag has the same cotton webbed handles/binding and full 3-sided gusset as the above bag – although it is only available in the 'natural' color. This bag is durable and easily cleaned in the washer. The only thing we don't like about it is that it's been discontinued. Get this canvas shopping bag while supplies last!