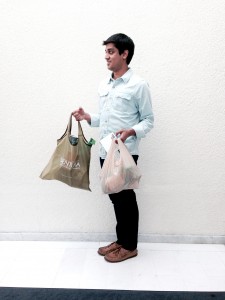 We recently sat down with our long-time client at the City of Ventura to talk about reusable bag campaigns and learn more about the overwhelming success of theirs. The City has integrated reusable bags into its environmental sustainability programs and has given out more than 6,000 PET Folding Carry All bags in less than three years! How? Read our interview!
Bulletin Bag [.com]: What prompted your team to consider a long-term project using reusable bags?
City of Ventura: Being a coastal city and having an active surf community, our beaches and water quality are among the most popular environmental issues. We have a very active and hands-on outreach program. We staff an educational booth at about 20 events annually, communicating various environmental messages to our residents. By educating residents of the threat that loose plastic bags pose on our environment, we have seen a huge, growing interest in reusable bags.
BB: How many different bags did you consider? What made you decide on the PET Folding Carry All?
CoV: We used a retail branded bag when we first started. While they were well received by the community, they were too expensive. We chose the PET Folding Carry All because they had a much lower price. We liked that they were made with recycled PET plastic, we loved that they stuff into a smaller pouch, and that they were bigger than the bags we were previously using.
BB: Did you design any marketing literature to compliment the bag project?
CoV: We partner with our local Surfrider chapter once a year to co-host a "Reusable Bag Day" where we collect reusable bags from businesses all throughout the community and distribute them to residents as they enter grocery stores in town. Our bags from Bulletin Bag [.com] are always the most popular because of their recycled content material and their size.
BB: How are the bags distributed in the community?
CoV: We distribute bags at the many community events we host and/or participate in.
BB: What was the outcome you were hoping for at the end of your project?
CoV: We love seeing the bags being used in the community. We've given them to colleagues and friends, but the absolute best thing is seeing a stranger using them. It means our message is effective and working. Changing behaviors is extremely difficult, but we've realized that through positive encouragement and by equipping our residents with bags, they will have a greater chance at success.
BB: What was the actual outcome of the project?
CoV: This is an ongoing project. The City of Ventura received City Council direction to draft a plastic bag ordinance in December of 2013. This will be presented for a formal vote in the summer of 2014. By continually encouraging our residents to move away from the single-use plastic bags, we are prepping our community for the shift away from plastic bags and toward more sustainable behaviors.
BB: Is there anything else you'd like to add?
CoV: The City buys all of these bags with non-general fund money. We receive funding from Assembly Bill 939 (AB 939) monies that is from a portion of resident's trash bill. This funding source is for trash diversion/recycling projects. Other items we purchase with these funds are recycling containers for businesses, public recycling stations, and reusable water bottles.
For more information on the City of Ventura and its sustainability programs, visit www.cityofventura.net/environmental