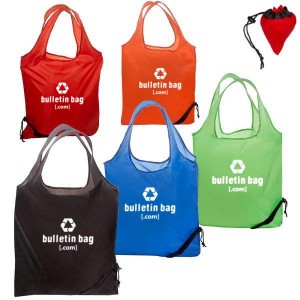 More and more municipalities across the country are enacting plastic bag bans or fees, and shoppers are finding ways to adapt. As a result, folding bags, in large part due to their incredible convenience, are more popular than ever. However, there's more to buying wholesale folding bags than you'd think. Here are some things to consider when deciding on those ultra-portable reusable bags that collapse, fold, or stuff into smaller footprints. 
Material Options for Wholesale Folding Bags
Folding bags, like our other custom reusable bags, come in different material types. A client's budget may dictate which material to choose, or perhaps function will win out. The four material options for wholesale folding bags on Bulletin Bag are:
Nonwoven Polypropylene: Our least expensive folding bags are made from nonwoven polypropylene. These bags fold up and typically snap shut. The material is thicker than others, so the footprint of this type of bag is larger than other material options. They also aren't as strong as some other bags, so regardless of size, nonwoven polypropylene folding bags are best suited for quick, light shopping trips.
Cotton: Bulletin Bag offers a lovely cotton folding bag, which really rolls up and snaps shut when not in use. Cotton folding bags are also bulkier, but much stronger than nonwoven polypropylene, and carry a much higher perceived value. They are also more long lasting and easier to clean than nonwoven polypropylene folding bags.
Recycled PET: Our recycled PET folding bags are some of our biggest sellers, and have been for quite some time. Offered in eight great colors, these bags are environmentally friendly, pack down into a small pouch, and are great for both men and women. They can easily fit in a handbag, pocket, or glove box for easy access while on unexpected errands.
Polyester and Nylon: These two materials are similar in feel and behavior. They usually stuff into a pouch, which can be attached, loose, or even integrated into a corner of the bag itself. Some others, like our Medium RuMe Bag, fold and secure shut with Velcro.
How Do They Work?
There are a few ways in which our bags collapse and fold up. Make sure to ask how the bag you choose folds so that you're not surprised when your bags deliver to see that it's not what you assumed.
Roll and secure. Some of our bags don't have a pouch at all. You fold or roll them (depending on the bag and your personal preference) and fasten them with a snap, Velcro, or elastic band.
Fold and snap. Our nonwoven folding bags fold up a specific way and snap closed with an integrated fastener.
Stuff and go. Most of our folding bags stuff into a pouch. Be sure to ask whether the pouch on your specific bag is attached or not. Some of them are separate pieces. Some others actually stuff into the corner of the bag itself, which doubles as the pouch!
Whatever style and material you decide to purchase for your wholesale folding bag project, know that we are here to help answer any questions you may have—and if time permits, send you a sample so you know exactly what you're getting!