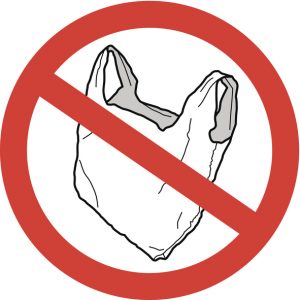 On July 1st, our home state of Maine passed a statewide ban on plastic bags. This bag ban on single use plastic bags is a great step towards being more environmentally friendly. These plastic bags are flimsy and easily destructible. Retailers will now be carrying paper bags, reusable plastic bags, or both. Some single use plastics are exempt from this law, including pharmacy bags and deli bags.
Maine passed legislature to ban single use plastic bags in 2019, but coronavirus put a halt to everyone's plans. The bag ban got pushed back twice since the pandemic happened. The first delay was because of concerns about spreading germs and the virus. It was then delayed a second time due to disruption in packing supplies brought on by the pandemic. Now if you're caught at the store without a reusable bag, you'll have to pay for them.
Single use plastic bags are defined by how thick they are. Typical single use plastic bags are 4 mils thick, which is very lightweight. Plastic bags like that are the ones that are banned. Thicker, reusable plastic bags are one alternative to single use plastic bags. For paper bag options they need to be designed so that they can hold 8 pounds and contain at least 20% post-consumer recycled materials. Retailers must offer reusable plastic bags or paper bags now, regardless of what kind of store they are. These stores must charge a fee of at least $0.05 cents for paper or reusable plastic bags. While this doesn't seem like much, it can add up over time! If you want to read about reusable plastic bags more, then read our blog post about it here!
If a retailer does sell single use plastics, they must also be a public plastic bag recycling location. Most municipal recycling stations will not recycle single use plastic bags since the flimsy material can get caught in machinery. These public recycling locations send their recycling directly to processors who can sort and properly recycle single use plastics. It's not just for plastic bags, most plastic wrappings and packaging can also be recycled at these stations.
This bag ban isn't just about single use plastics, but also about styrofoam. Polystyrene foam, or styrofoam, is a material that takes years to decompose. It is most used in food delivery and carry out options. This styrofoam ban is for food restaurants that commonly use styrofoam as food containers or vessels. However, if a retailer is using styrofoam packaging for raw meat, poultry, seafood, and eggs then you are exempt from this until July 1st, 2025.
While there might be some mixed feelings about changing this part of our lives, we can't deny the great environmental impact that this bag ban has. Reducing our plastics use is an important step in making sure that we leave this world better than how it started. Mainers can start by bringing their own reusable bags every time they shop!