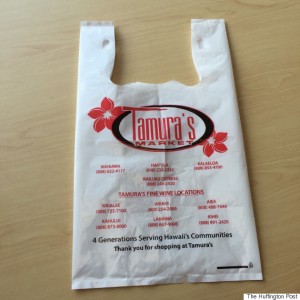 On July 1, Hawaii became the first state in the country to enforce a ban on single use plastic bags. However, a loophole in the law is opening the door to a plastic bag that's even worse for the environment than the old bags.
The fault lies in the way a reusable bag is defined: "a bag with handles that is specifically designed and manufactured for multiple reuse" and is made of durable materials, including plastic that is at least 2.25 mils thick. So, plastic bag manufacturers starting making—you guessed it—THICKER single use plastic bags. Only now…they're calling them reusable bags!
Supporters of the bag ban are saying that this plastic bag loophole will ultimately undermine what the ban was working to accomplish.
The thicker plastic are made of low-density polyethylene. They also take more natural resources to create than the more flimsy counterpart.
Stuart Coleman, a Hawaii coordinator for the nonprofit environmental group Surfrider Foundation, says "We need to redefine the term 'reusable bag' [in the ordinance] so that it does not include plastic." He's also guessing that the reusable bag imposters " …will be littered like they were before, because that seems to be a perennial problem."
Unfortunately, we think Coleman is right. If it looks like a plastic bag, and acts like a plastic bag, people will treat them like a plastic bag. And they'll end up in trees, waterways, and landfills. Only this time, they'll take longer to go away, because of course, they're thicker than ever before.
Thanks to the Huffington Post for the image above.