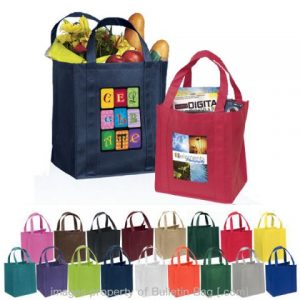 Nonwoven polypropylene bags are a great option if you're looking for a sturdy material that can be made into so many styles. This material is cheap to produce but can last a lifetime. We have woven polypropylene bags on our site, but most of our polypropylene bags are non-woven. What do we love about nonwoven polypropylene bags?
Polypropylene is a polymer material created in the '50s and has become a big part of life today. This material can be made into so many things like reusable bags, or even furniture. Since it is a cheaper material to produce you can find products made from this material at all price points. Our selection of nonwoven polypropylene bags come in so many styles, we must tell you about them!
If you're looking for something with size and style, then check out our Big Thunder Grocery Tote. This water repellant bag is perfect for all your grocery runs and will proudly display your logo or design. One reviewer says that "These bags are great quality and looked great with our gala logo. We got many compliments from our patrons on them!"
If you need something less suited for big trips and more suited to light loads, then try our Nonwoven Shopping Tote! This bag is perfect for quick errands when you need a something lightweight to help. The rectangular shape of this bag provides structure and style for everyday use. This bag also comes in multiple colors, which means tons of options for your logo or design to pop out.
When you need a smaller bag that still has a big impact, look no further than our Standard Reusable Gift Bag. We love that this bag has so many color options to choose from. Having a ton of color options helps you customize this bag to your preferences. This is the perfect option to carry everything a gift bag could hold.
Finally, if you're planning a large event where you want to leave a big impression then turn towards our Budget Convention Tote. This tote bag is perfect for long days where you need something to keep all your papers and documents in place. This stylish tote features an adjustable shoulder strap and document pouch. Like the name says, this bag is perfect for long convention days or events when you want a stylish tote bag by your side.
These are only a small selection of nonwoven polypropylene bags we have on our website, so if you don't see what you're looking for don't get discouraged. Finding the perfect promotional bag is essential, and we have a wide selection of bags on our website so that you won't leave empty-handed!