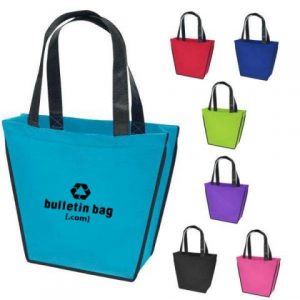 When you're hosting a big event or project, having the right beginning—or ending—gift is important. Once the party is over, having something to remember your brand by is a great way to leave your mark. Including custom gift bags in your next project is a creative and useful way to let your clients know you appreciate them.
Custom gift bags are an added touch to elevate an experience and having the right gift bag is important. Gift bags can come in various shapes and sizes, and big or small each bag has a special purpose. There is no better way to talk about custom gift bags than to show you some examples. Three great examples of gift bags are our Small Boutique Tote, Colored Cotton Zipper Pouch, and our Trinket Bag with Ribbon Drawstring. All custom gift bags are unique and leave lasting impressions! Since all gift bags are so different we're going to talk about why we love each of them.
First on our lineup is the Small Boutique Tote. This trendy bag is amazing for all your gift bag needs. We love the unique shape of this bag which sets it apart from the rest. The nonwoven polypropylene material makes this bag easy to clean! This bag is perfect for goodie bags and celebration worthy moments. It is also perfect for showcasing your design or logo since the unique shape is guaranteed to catch people's eyes.
If you're not looking for a tote, look at our Colored Cotton Zipper Pouch! This made in the USA pouch is great for change, cards, stationary, and so much more. Pick your favorite color for your pouch and for the zipper. If that isn't enough customization for you, this pouch also has the option for full bleed imprinting. You can display your design seam to seam proudly on this cotton pouch!
If you need something that is better suited for sentimental gifts, then our Trinket Bag with Ribbon Drawstring is the perfect match. This flat cotton trinket bag is a great option for a more personal gift that isn't too big and isn't too small. When you want to give something meaningful you still want to be able to showcase your logo. Having a small trinket bag is the perfect way to display your logo while also being able to give a meaningful gift to those who matter. This bag is made in the USA and has so many ribbon colors to choose from. You will be able to find the perfect color to compliment your logo!
Custom gift bags like these are great for holding give-away bags for events or projects. These gift bags can hold our favorite promotional items like sunscreen and lotion, headphones, and reusable water bottles. At your next project or event, custom gift bags will steal the show!