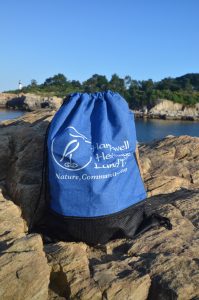 Drawstring backpacks are a promotional products staple, especially this time of year as the weather warms up and more people are getting outside! They're a classic bag style that seems to be timeless. Maybe it's because they can be used for so many different occasions.
There are countless ways to incorporate drawstring backpack promotions into your marketing mix—no matter what your organization represents. The imprint area on these bags is large, making it the perfect canvas for all sorts of artwork! Here are five ways to create a buzz and jumpstart your next promotion with drawstring backpacks:
1. Gift with Purchase. This is a cool and unique spin on a shopping bag that would be perfect for active and outdoor brands. Place your customers' purchases in something they'll be able to use over and over. This is a great way to stand out from other competitors they may be shopping at! A custom drawstring backpack is light enough so it's easy to carry like a shopping back but can serve so many purposes over and over! Plus, your customers will be advertising your business for you as they use your branded bag! Win, win!
2. In-Store Promotion. Your customers buy a bag, and then get 10% off everything that fits in the bag. Or they buy a bag, and you donate proceeds to a local charity. Or give away the bags, and your customers get 5% off every time they shop with that bag on subsequent visits (or on a certain day of the month that's "special" for bag-owners). You get the idea.
3. Art contest. People love a good contest! Hold a design contest, then print the winning artwork on drawstring backpacks alongside your messaging. This would be a fun event for schools or student organizations. Give them away or sell them—either way, you'll see people clamoring to get one because everyone loves hand-drawn artwork!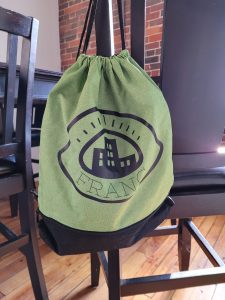 4. Fundraiser. Order drawstring backpacks with your school or nonprofit logo on the bag, then resell them in the community as a fundraiser. If you want even more bang for your buck, hold a fundraiser in conjunction with the art contest in #4! Kids LOVE these bags (just be sure that the cinchpack you choose is CPSIA tested and approved for use by children!).
5. Thank you. Give drawstring backpacks away to volunteers at your local clean up, or to your staff at this year's company picnic, or to your clients. These oh-so-handy bags will be put to good use all summer long!
How do you plan to incorporate drawstring backpack promotions into your organization this summer? If you can't figure out a way to do it, or if you think another type of custom bag is better suited to your organization's marketing efforts, let us know! You can comment below or send us a message on our social media pages. We'd love to help you—and learn about how your successes!