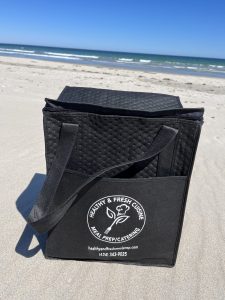 Our Therm-o Super Tote is a popular bag for a lot of reasons, and today we're going a highlight exactly why our Marketing Assistant, Ashley, loves this bag so much! The Therm-o Super Tote features a three-sided top that zips completely closed to keep contents hot or cold. This bag also can hold quite a bit because of that top zipper. It offers more carrying capacity that the original Therm-o Tote (even though it has the same dimesions), plus it has a front pocket. This front pocket creates even more room for additional storage space!
Ashley has been using this bag for grocery shopping and absolutely loving it. She is blown away by how much can fit in just one bag! It's the only insulated bag she takes with her to the grocery store, because it always fits all her frozen and cold items. She never needs a second insulated bag! It's extremely easy to carry and feels very sturdy as well. She doesn't have to worry about it if she's carrying multiple bags of groceries to and from her car. It keeps her frozen items cold even if she has to make some stops on the way home from the grocery store. It's become her favorite grocery bag!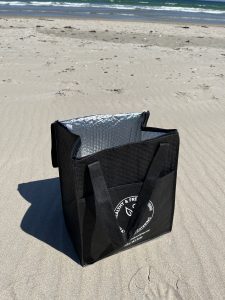 Ashley also has used this bag as a cooler to take the beach. It's perfect for when you don't want to pack up and carry a whole big cooler around. This bag is lightweight in comparison but still sturdy and will keep the contents cold! She packed it with some ice and added in sandwiches, drinks, snacks, and utensils. The front pocket was perfect to keep things she didn't want getting wet from the ice, like the utensil, napkins, and smaller snacks like granola or nuts.
Overall, Ashley can't speak highly enough about this bag! It can be used for so many different things and is a perfect bag to have as we head into summer. If you're looking for more ideas for bags to look into this summer other than the Therm-o Super Tote, check out our other blog post here – you can read about some of our other favorite insulated bag picks! If you're interested in the Therm-o Super Tote for your next project, reach out to our team at Bulletin Bag and we can help get the process started for you. We have team of experts that can help answer your questions and point you in the right direction!