The warmer weather is finally here, and summer months are right around the corner! This means lots of hot days spent at the beach, in the park, or enjoying the sun in your own backyard. Don't be left melting in the sun without a good, insulated bag at your side! We've all been there: drinking a warm beer, ice cream melting down our hands, or sticky popsicles all over the place. No thanks! Having quality custom insulated bags for the summer is a must in our book! And don't worry, we've got you covered with a variety of high-quality bags to keep your favorites cold all summer long! From small personal totes to large full cooler bags, we're sure to have the one for your project.
Looking for a highly customizable cooler bag? Then our Large Custom Insulated Cooler Tote might be just the bag for you. This bag allows you to print in full color and full bleed (seam to seam) on all surfaces of the bag! Plus, you can customize the size, shape and style to meet your specific needs.
The Six Pack Cooler Bag is another fan favorite. Perfect for packing lunch and taking it on the go, filling with drinks for an afternoon at the beach, and more. It features a front pocket for additional storage and comes in 15 colors, so you're sure to find the perfect color for your project. This is great affordable, low-cost option for everyone!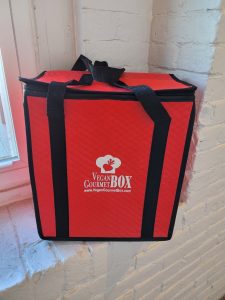 Looking for something more heavy duty? Then check out the Hearty Cooler Bag. This is a two-tone polyester bag with foam insulation and lining. It has plenty of space in the main compartment for food and drinks, and comes in red, blue, and green.
Our Tarpaulin Cooler Tote is a great option for a pool-side bag. The interior is waterproof along with the outside too up to the zipper! No need to worry about getting it wet while on the beach or by the pool during the summer. We love the padded, adjustment strap for comfortable transport!
You can shop all of our insulated grocery bags here. These are the perfect promotional item for the hot summer months! Use as employee gifts, add them to your existing line of products for sale, use them as thank you gifts for customers, and so much more. There is no limit to the ways you can utilize promotional products. Create a unique bag that will set your brand apart, and that your audience will use throughout the summer!