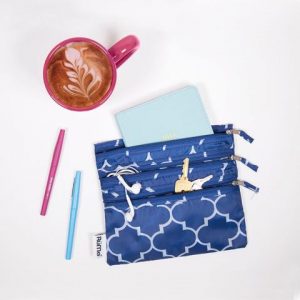 Reusable bags have become a huge hit with everyone looking for better shopping alternatives. Many businesses have started to only accept reusable bags and won't use plastic bags anymore (read more about bag bans here). One collection of bags that we love are our Rume bags!
Rume bags are great when you want a sturdy bag that's also lightweight and easy to store. Our collection of Rume bags has been handpicked so that we can showcase the best bags for any kind of project you'll need them for.
We love that Rume bags are so versatile and can be used during any trip or event that's coming up. Our Medium RuMe Bag is a great example of versatility! This 180d polyester bag is extremely durable and can carry everything you need. We love the variety of color and style that this bag comes in. The fun patterns and colors on this bag will catch people's eyes, and with full color printing you can take advantage of the fun prints and styles of this bag!
If you like this bag, but you don't need all that space, then try our RuMe Classic Mini Tote. This bag is smaller than the Medium RuMe Bag but just as strong! Like the Medium RuMe Bag, this bag can also hold up to 50 lbs. These RuMe bags can be rolled and closed with a loop closure so they can be easily stored away!
If you need something even smaller, then try our RuMe Baggie All. This cute pouch may look small, but it features three zippered pockets for all of your things. These three pockets are perfect for organizing your things for a quick grab! There's a wide array of colors and patterns, you'll easily be able to find your perfect match!
Finally, if you want something more travel friendly, we have two great options. Our first is our RuMe Reveal Quart Travel Pouch. This pouch is TSA compliant and will hold all your liquids without the worry of spilling. The material is water-resistant and machine washable with a front zipper closure. Another bag perfect for travel is our Rume cFold Travel Duffle. This travel duffle can fold in on itself for easy storage when not traveling and features a back pocket that also doubles as a sleeve to attach to the handle of your luggage.
As you can see RuMe bags are versatile while also staying stylish! We love these bags for on the go since they're so durable while also easy to store away. These bags are convenient for any project or event you have planned.