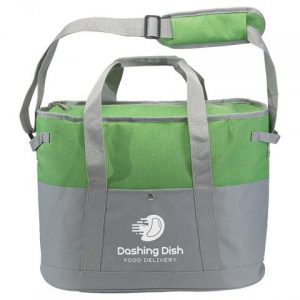 There's no denying that the weather has been unusual this summer. Here at our Maine headquarters, we've had days of super hot weather followed by days of rainy weather. While the weather has been confusing, it hasn't stopped us from enjoying our days outside. One thing we always bring on outings with us are custom cooler bags.
Custom cooler bags are the perfect accessory for days out and about. They're great for holding all the food and drink that you want to keep fresh for the day! They come in so many shapes and sizes, finding a cooler bag that works with you won't be hard.
The first bag we want to show you is our Hearty Cooler Bag. This bag has a very stylish look and feel, and features foam insulation lining. This bag also has an adjustable shoulder strap and front pockets to hold things you need at the ready. We love how sturdy this bag feels and that it can carry everything we need and more!
Another bag we love is our 20 Can Insulated Backpack Cooler Tote! This backpack cooler is perfect for days when you're on the go and don't want to hold everything. If you don't want a backpack, there is also an adjustable shoulder strap to carry this bag. This bag has a 20 can capacity and is heat sealed with PEVA lining.
If you're looking for something a little smaller, the Therm-O Cooler Tote might be for you! It's the "little brother" to our Therm-o Super Tote! This bag comes in so many fun colors that would be perfect for a bright event or fun project. The top of the bag is flat and will zip fully closed to help keep the insulation in. We love the foil interior and plastic bottom insert that helps keep this bag structured and sturdy throughout the whole day.
Custom cooler bags are a great addition when you want something that can keep up with your busy lifestyle! Having a bag that will keep all your food and drinks fresh helps you focus on the good things and not worry about any potential hiccups along the way. We love custom cooler bags for their great function and style!