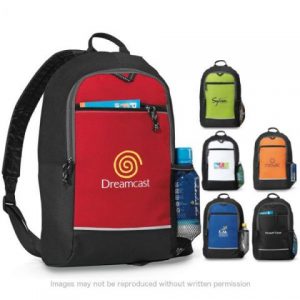 It's about the time where early mornings and late night studying will be the norm again. With school starting up, custom bags for school are always a hit. School days can be long and feel like they drag on forever. When the days are long, the last thing you need is to be disorganized.
Custom bags help keep you organized and on the right track. They can be something as big as an overnight bag or as small as a trinket bag. Here is some information on our favorite custom bags for school and why they make our list of back-to-school essentials.
1. Backpacks
Obviously, you need a backpack! We love our Lifestyle Backpack for a day-to-day school routine. This is a kid friendly backpack, and it features a variety of fun colors. We love the side mesh pocket which is perfect for a reusable water bottle, and the front zipper so that everything stays organized!
2. Pencil pouches
According to our staffer Mary, a pencil pouch is essential! She says that "a pencil pouch definitely helped keep me organized. I also loved the fact that they were a cute accessory to have!" We love our Colored Cotton Pencil Pouch for the job. This made in the USA pencil pouch has a large variety of color and you can also change the zipper colors which we love!
3. Lunch bags
If a lunch bag isn't an essential, then we don't know what is. Lunch bags are great, and we love a lunch bag that has a lot of space. It's always better to overpack then under pack! To keep our lunch fresh, we choose our Zippered Lunch Cooler. This insulated lunch bag has a stylish feel along with a big front pocket. Its big enough to hold lunch and a snack in between!
We've found that the best way to get our kids ready for the school year is by giving them things they love and will get excited using. These three types of custom bags are our top choices for the new school year.