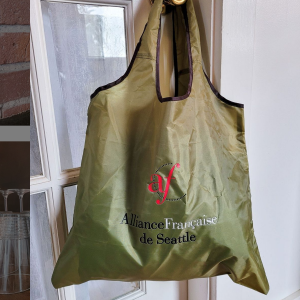 Recently, our state passed a bag ban on plastic bags (read more about it here). We've been thinking about these changes and how we are going to adapt to this ban. Bringing reusable shopping bags with us as we run our errands is a change that we're all getting used to.
One thing that makes this change easier is having reusable shopping bags that are perfectly suited for all your trips out and about. Reusable shopping bags can be simple or complex. From quick runs to a full day of shopping, we have a bag that will fit your every requirement and need!
It's hard trying to remember to bring your bags in with you while shopping. If you need a bag that's hard to forget, try our PET Folding Carry All. This bag is made from recycled materials, which is only one of its amazing attributes. Another is that this bag folds in and can be stored in the attached pouch. We love to throw one of these bags in our purse in case we need a bag in a hurry!
When you want something sturdier and more suited for long shopping trips, then try our Over The Cart Grocery Tote. This polyester bag has an elastic top that you can stretch over most grocery carts. This is perfect for big shopping trips when you need to easily bring home a haul. There is also a side slash pocket which can hold all of your coupons or shopping lists with ease!
If you're looking for something that has more of a multi-function use, then look at our USA Made Two Way Tote. This made in the USA tote is perfect when you don't want to sacrifice form or function for style! The cotton canvas material gives this bag a natural look which can be taken anywhere. The handle and crossbody strap allow you to hold this bag two ways depending on what you prefer. This bag also includes full bleed printing if you want that extra emphasis on your design or logo.
Reusable shopping bags are here for the long haul, so don't grab a bag you don't love. Making sure you have a bag that can provide structure while maintaining style is important. You want something that will fit your lifestyle, so put some thought into what reusable shopping bags you need!