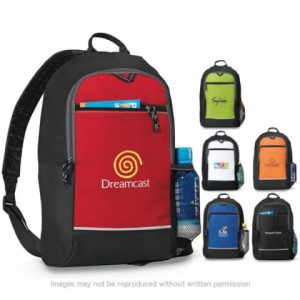 Promotional backpacks are a fun item if you want to bring some variety to the table. Backpacks can come in all shapes and sizes and are great for so many events. They can be as simple as a drawstring backpack, or as complex as a laptop backpack.
Don't close yourself off to just one type of backpack. We have a wide variety of promotional backpacks that are fun and functional! Down below we're going to talk about some of our favorite promotional backpacks and the reasons why we love them so much. Read along because you don't want to miss out on these amazing products!
For starters, we have a backpack that can be used day or night. Our Mini Backpack is small and stylish. This trendy bag is perfect for a day of exploring the city or going on vacation. The front zippered pocket is perfect for smaller items that you want readily available. We love the mini size of this bag since it's a great size to hold all our everyday things.
if you need a backpack more suited for a big day of work, try our Lifestyle Backpack. This classic design is functional and able to hold everything you need for the day. The main zippered pocket is spacious, and the side mesh bottle holder is so handy! This backpack is the perfect bag to hold all your important documents and things.
When work is over and it's time to play, don't stress about space. Our Ripstop Packable Backpack is perfect for a quick transition. We love this backpack since it will store in its own pouch. It's an easy grab and go when you don't have time between activities to pack a whole new bag. This backpack has a big zippered front pocket, and a water bottle pocket. Just undo this backpack anywhere and fill it with everything you need!
Promotional backpacks are perfect for anything you have planned! They're so versatile and help make any trip or event run smoothly. From a simple day trip to week long stays, these backpacks can help your project or event be the best it can be.