So you live in Los Angeles, where plastic bags are most likely going to be banned starting in 2014. What to do? Take advantage of the opportunity and choose a fabulous folding shopping bag to put your logo on! Here are two new Bulletin Bag [.com] options worth considering: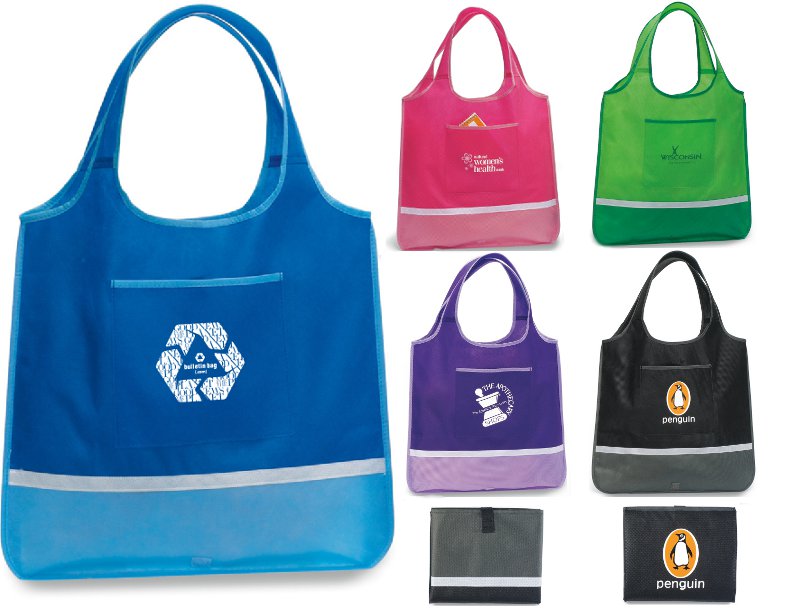 The Colorful Foldable Shopping Tote is a great choice for budget-conscious clients. Unlike most of our folding bags (which are made from nylon, polyester, or cotton), it's made out of 80 GSM nonwoven polypropylene. It retains our popular folding bag features, like a front pocket and a handle long enough to wear on the shoulder. The Colorful Foldable Shopping Tote comes in fun colors, and has a large imprint area on the back. Since it doesn't have a side gusset, it's a great bag for small store trips or conferences (papers will easily fit and stay flat).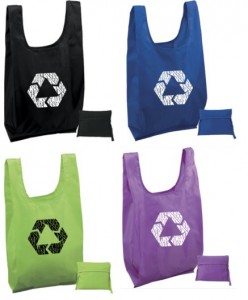 The T-Shirt Bag with Pocket is a fantastic value. Made from polyester, it folds ingeniously into its own attached interior pocket. It has a side gusset, but it doesn't extend across the bottom of the bag. It also is slightly narrower than some of our other folding bags, so it's best suited for quick shopping jaunts.  This bag is a really nice bag for the price point, and has a high perceived value—making it a bag your recipients will be happy to carry.