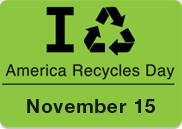 November 15 has marked America Recycles Day since 1997. It's the only nationally recognized day dedicated to the promotion of recycling in the United States.
But what's the difference between a recycled item, an item that's recyclable, and something reusable? The three words are often interchanged, but they shouldn't be.
A recycled item (say, a bag made from recycled materials) is something that has been recreated from things that were previously used. These "things" are often referred to as post-industrial waste and post-consumer waste.
Post-industrial waste is generated during the manufacturing process. For reusable bags and water bottles, it's often from virgin fiber producers, tire cord manufacturers, polymerization plants, and many other plastic products. Post-consumer waste is recovered from the consumer supply chain, most often from disposable bottles and household plastics. That waste is then repurposed into items like recycled water bottles and reusable bags with recycled content. Just be sure to look at the amount of recycled material in the item you're considering—it can vary from less than 10% to 100%.
Recyclable items are things made from virgin materials, but that can be put through a recycling process once you are finished with them. Many of our nonwoven polypropylene grocery bags are recyclable once you're done with them.
Finally, a reusable item is anything you can use over and over. Got it? Great! Now go buy something recycled, recyclable, OR both!
In honor of America Recycles Day, take $25 off any custom reusable bag order of $350 or more on Bulletin Bag [.com] or Bulletin Bottle [.com]. Orders must be placed by 5:00 pm EST on 11/15/2012 (standard minimum order requirements apply. Must mention coupon code ARD13.). For more information on America Recycles Day, or how you can get involved, visit http://americarecyclesday.org/.