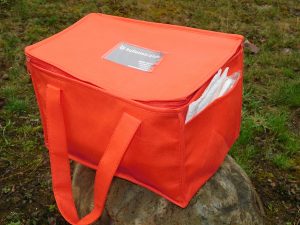 Looking for a custom insulated bag that's not too small and not too big, like the one Goldilocks would gravitate towards? You've found just the bag with our Horizontal Thermal Tote!
This custom insulated tote features a three-sided zipper on top, which allows for more food to be stowed inside without getting smooshed when you close it and also keeps the cold inside, where it's supposed to be!
Our staff tester found this bag to be ideal for food delivery services and restaurants. It has a clear window on the top for a business card or a business card magnet (which we have here) to keep your company top-of-mind when clients are most likely to think of you. You know, when they're standing in front of the fridge, contemplating dinner!
There are two outside pockets, one on each end of the bag. Pack napkins, silverware, and menus, or make room for a bottle opener, cheese board, or snacks that don't need to be kept cold! The bag also comes with a removable bottom insert. Our tester thought that it helped with stability and kept the contents level inside the bag.
At 12"w x 8"h x 8.5" deep, this custom insulated bag isn't our largest, but it's still great for longer outings, quick supermarket stops, and the aforementioned restaurant and food industries. The nonwoven polypropylene construction is durable and the insulated interior is easy to spray and wipe down (or hand wash in a sink with warm, soapy water).
Have questions about the Horizontal Thermal Tote? Ask the tester! Email Deborah and she'll be happy to respond!