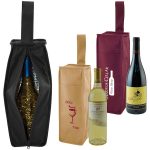 Insulated wine bags are great for toting your favorite chardonnay and keep it cool until you arrive at your destination. But what if you don't like chilled wine? Do these bags turn into a big waste of money? Definitely not! Here's why.
We recently put our Single Insulated Bottle Tote to the test, literally! Deborah (our awesome sales admin) visited her local liquor store. Together with the store manager, they grabbed bottle after bottle to see what they could fit inside of this handy insulated bag. You might be shocked (kidding, kidding!) to learn that traditional 750 mL wine bottles fit like a glove. But do you know what? 1.5 L magnums also fit (tightly, but if there's a will…). That's not all. 
The duo then started putting in liquor bottles. Guess what? Many of those fit too! That's right, this wine bag works for keeping Fireball, Jagermeister, and vodka cool in transit as well. Prefer beer? Stash your favorite bomber and you're off! We'd be a bit remiss in not mentioning that you can also tote your San Pellegrino, Perrier, and pretty much any other bottle that's not awkwardly designed.
Now that we've established a plethora of beverages to put in this bag, let's talk construction. Deborah says that the seams are very sturdy. She has no concerns about toting a full bottle anywhere (in fact, she did…we'll get to that in a sec) and the zipper, which runs nearly the full length of the bag) was strong. The bag features a convenient carry handle and a front pocket that is perfect for stashing a corkscrew. Depending on what you're toting, you also might find yourself with room for a small ice pack to help keep it cold!
Deborah had a lovely, award-winning bottle Idaho Huckleberry Wine in her fridge. She took it out, put it into the Single Insulated Bottle Tote, went for a "quick" 3.5 hour car to a weekend getaway spot, and the drink was crisp and chilled when she finally had a glass (after she stopped driving, of course). Pro tip: put the top of the bottle into the bag first, then slide the bottom in and zip closed.
Those that enjoy ANY chilled beverage will love this insulated bag for an evening at the lake, by a campfire, or at a dinner party. And that is not a waste of money!
Have more questions? Email Deborah and ask away!