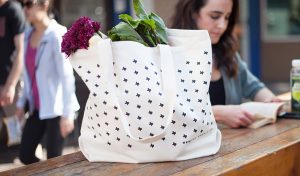 Recently we had a chance to chat with Laura Davis, Founder and Creative Director of Newton Supply Co. The company, based in Austin, Texas, offers sustainable and ethically made bags and accessories. They have been selling our TradeWinds Custom Canvas Tote in their online store since 2016. We love the mission of Newton Supply Co. as much as we love  working with TradeWinds…and we are thrilled they have found each other, because the two organizations dovetail perfectly!
Bulletin Bag: What prompted your team to consider a project using custom bags?
Laura Davis: We produce handbags and weekenders, and were looking for a reusable shopping tote to add to our line to cater to our gift shop retailers that buy wholesale from us. We wanted to look for a partner that could manufacture for us, since we are currently at capacity production-wise. 
BB: How many different bags/options did you consider before deciding on the TradeWinds Custom Canvas Tote?
LD: We looked into quite a few, including made in USA and organic cotton totes.
BB: What made you decide on this particular bag?
LD: The TradeWinds tote was excellent quality, and as soon as I heard about the mission of the manufacturer it was a no-brainer! I looked into the company and what they did and was really impressed. With our in-house products, we work to empower local refugee women with employment, so it was fantastic to find a manufacturer with a similar mission.
BB: Did you design any marketing literature to compliment the bag project? You mentioned a custom hang tag…can you tell me more about that?
LD: We designed a hangtag that mentioned the bag's manufacturer and their mission. We try to be very transparent about who is making all of our products and where they come from, so it's great to let our customers know the manufacturer of this tote aligns with our company mission!
BB: How are the bags distributed?
LD: We distribute online and through several local and regional retailers, as well as pop-up shops with our partners.
BB: What was the outcome you were hoping for at the end of your project?
LD: We wanted a high quality, ethically made product with our custom print, that could be made in large batches as needed. We also needed it to be within a budget that allowed us to sell wholesale to our retail partners.
BB: What was the actual outcome of the project?
LD: Exactly what we hoped for!
Love their bag (pictured above) and want one for your very own? Check out their store here!