Several months ago, ChicoBag contacted us about having a selection of their bags on Bulletin Bag [.com]. It's taken some time, but we are super-excited to finally announce our new partnership and show you our custom ChicoBag offerings!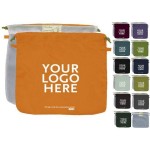 Many of our clients have asked us for produce bags, so we're thrilled to now offer the ChicoBag Mini Mesh Produce Bag. This produce bag is made from proprietary rePETe, a fabric made from 100% post-consumer recycled plastic bottles. Breathable mesh on one side, the bag also features a drawstring closure.
We also offer two folding ChicoBags: the ChicoBag Original, and the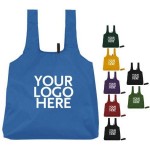 Basic Tote by ChicoBag. Both bags are strong, durable, and come in lots of lovely colors. The Original tucks up into it's own attached pouch, however, while the Basic Tote folds up and closes with Velcro. The bags are priced with polyester fabric construction, but they can be made with recycled materials (contact us for more information on that).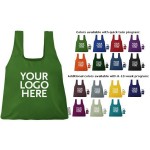 If you look beyond their great products, you will also see that our relationship with ChicoBag is directly in keeping with the Bulletin Bag [.com] mission of product safety and social responsibility. A Certified B Corp, ChicoBag is as committed to product safety as we are. The company also offers a warranty on their products, and boasts a unique end-of-life program for all reusable bags!
Something to note about our ChicoBag product family: with the exception of the ChicoBag Original, these bags all have an 8-10 week lead time. So, plan now for your next promotion, event, or fundraiser!