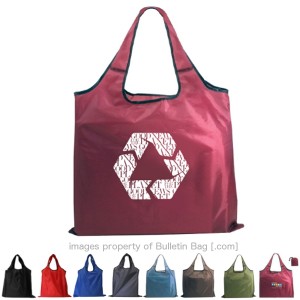 Bags made from recycled materials have always been an important mainstay in our reusable bag lineup. It feels good to know you're using a product that was created from the waste from another. As such, we offer more than a dozen bags made from recycled materials at Bulletin Bag [.com]!
We've all seen a laminated bag that proudly proclaims how it was a plastic bottle in a past life. Did you know, however, that there are other options for bags made from recycled materials besides that stuff from recycled drink bottles? We offer reusable bags made from recycled cotton, recycled polyester, and recycled PET! 
Even within the recycled PET bags, there is a lot of variation. Laminated, recycled PET feels slick to the touch and can be somewhat stiff, while our Soda Recycler feels like it's made from canvas-like material. Our PET Folding Carry All (and PET Folding Sling Tote) has the feel of a nylon or polyester bag. This is a good thing, as it's easily stashed away in its attached pouch (Can you imagine trying to stuff a cotton canvas-like material into a pouch??).
This brings us to the crux of this blog: For the first time ever, we are thrilled to offer our PET Folding Carry All in FOUR new color options! This is, of course, in addition to the four standard colors we have always carried.
The PET Folding Carry All is one of our most popular bags. Clients love that it compacts into a pouch, which makes it super-versatile and appealing to a wide range of recipients. It features a large imprint area that can carry messaging in one or full color, and the wide range of colors make it more attractive than ever to men and women alike!
This awesome bag is even cooler because recipients feel like they're helping the environment by using a bag made from recycled materials. Plus, they'll feel more positive towards the company that gave it to them!
Starting in May, in addition to cocoa, cranberry, olive, and steel blue, you will be able to choose from black, gray, red, and royal on the PET Folding Carry All (the Sling Tote will come in the four original colors only…for now)! Your organization's messaging will shine with eight fabulous color choices. Contact us for your sample today, as these new hues are sure to fly off the shelves!