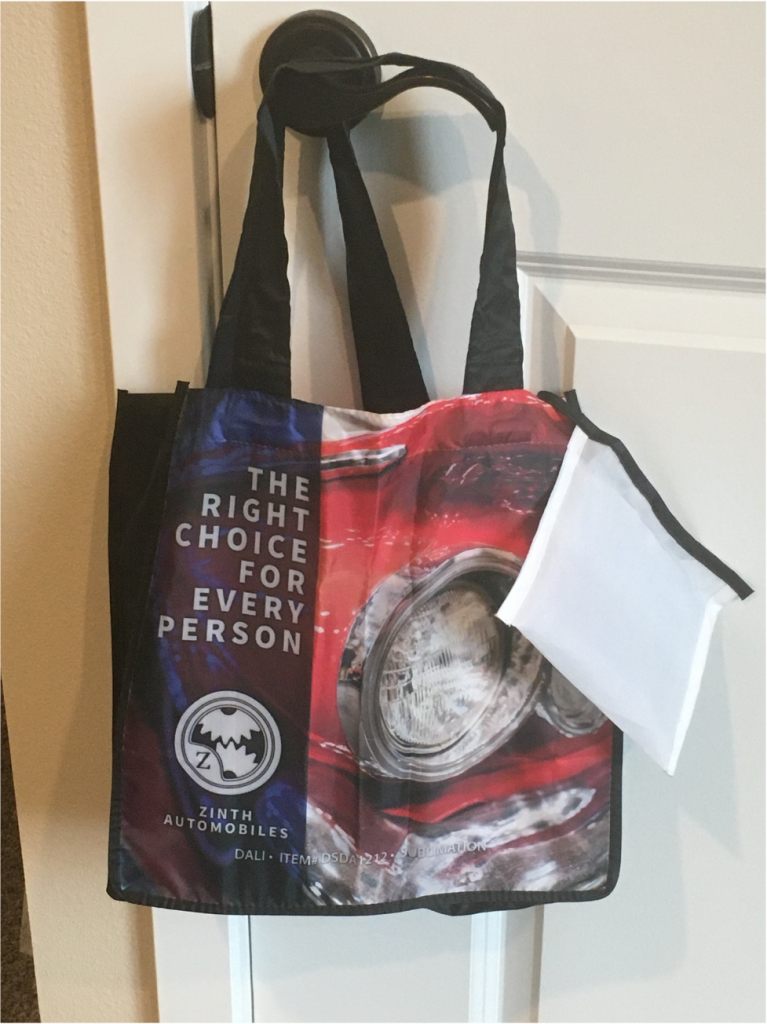 Our Dye Sublimated Folding Tote with Attached Pouch has got your full color artwork covered…literally! With full bleed, seam to seam printing of your creative messaging, it's a no-brainer for any promotion.
We tested out this bag recently and found that it's so easy to stash that it quickly became a go-to for on-the-go. It fits in a glove compartment or small travel bag, a purse or a messenger bag. Then, we just filled it up, wiped it clean, folded it up and put it away!
The Dye Sublimated Folding Tote with Attached Pouch is made from 190d polyester. The handles are well stitched, but the nature of the material means this bag is best for quick store trips, as opposed to heavy-duty grocery shopping. There's plenty of room for a roll of paper towels, a loaf of bread, a box of cereal and more. And with the bag's pouch attached securely to the bag, you'll never find that you misplaced your stuff sack again.
We have found that it can be hard to find a quality bag that can be printed in full color AND full bleed with lower minimums that so many of our clients need. After all, not everyone can use 2500 bags (or more!). This bag has been a welcome addition to our site for just this reason.
The only downside to our Dye Sublimated Folding Tote with Attached Pouch is that you can only print in one color on the pouch (if you so choose). While not a detriment to the bag itself, it is something we hope the factory rethinks in the future because full color and full bleed printing on the pouch would only extend the messaging that much more!
One thing's clear though: whomever receives these bags—whether by gift or by purchase—will be so glad they did!