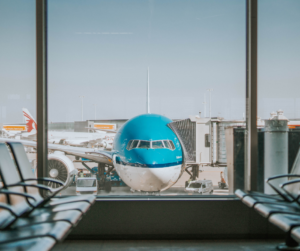 There's a lot that's going through our minds this time of year …parties, corporate events, vacations, presents, holiday dinners, and so much more. One of the most stressful parts of the holiday season? Traveling. It's a super busy time of year to travel, as many people head home for the holidays, or ring in the new year on a sunny beach. We can't control if your flight will get delayed, or if getting through security will take hours, but we can help you stay organized with our custom travel bags. If your staff travels a lot for work (or personally) then these might be the perfect promotional products for you!
Go-To Travel Bag – The name of this bag says it all …it will quickly become your go-to when hitting the road! IT has a large volume compartment with a zippered closure to keep things secure. It fits perfectly on top of rolling luggage while walking through the airport to keep your hands free while on the move. Speaking of rolling luggage…
Kenneth Cole 20" Expandable Roller Board – This rolling luggage is a classic style that's perfect for packing up your essentials for a quick trip. This 4-wheel expandable upright case is lightweight but durable and features a sturdy design! Plus it offers full color printing for your logo on the front of the case, so your brand is sure to stick out on the luggage rack!
rPET Modern Toiletry Bag – This is the perfect travel sidekick to keep you organized while traveling. This upscale and trendy case is perfect for holding all of your toiletry all in one compact place. Keep everything secure and at your fingertips!
These are just a few of our favorite custom travel bags to keep in mind this season. Travel bags like these are extremely useful this time of year, especially when they're customized with your organization's unique branding! Shop all of our travel and luggage bags here and reach out to our team with any questions you have! We'll help you create the perfect custom merch for the travel season ahead!