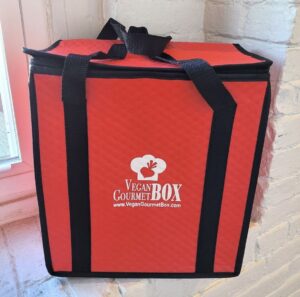 It's no secret that the cold weather is right around the corner (or here to stay in some places!). With the change of seasons comes a lot of new events and projects for your organization. Custom promotional products, especially around the holidays, can be a powerful tool to help you market your message. Custom insulated bags like food delivery bags are the perfect option for so many different businesses!
We know there are a lot of insulated bags on the market to choose from, so how do you know which of the food delivery bags out there are the ones for you? We'll break down some of our favorites and why we think they're worth it in the cold weather months!
Square Zip Insulated Grocery Bag – This insulated bag is a classic one. The strong handles make it perfect for food delivery and it has an increased capacity because of the squared-off three-sided zip top. It will keep food hot while on the go on the coldest of days!
20 Can Insulated Backpack Cooler Tote – Riding around on a bike or moped to deliver take out or groceries? This insulated backpack is perfect! It keeps your hands free while on the go but keeps the food warm while safely delivering it. It features a padded back panel and comfortable straps too. It has everything you need in a food delivery bag!
Large Custom Insulated Cooler Tote – Not only is this tote bag fully insulated to keep your hot food hot during the wintertime, but it is fully customizable. This bag gives you the creative freedom to design something unique for your marketing efforts but practical for your business operations. It has a minimum order quantity of 3000 bags, making it perfect for large projects or to stock up for the year.
We have a whole category of custom insulated bags and food delivery bags on our website. Every bag you see is hand-selected by our knowledgeable staff and tested by our team. We know these will make an excellent addition to your business this winter! Whether you're delivering hot food in a snowstorm, or taking cold groceries home on a hot sunny day, these bags have you covered!