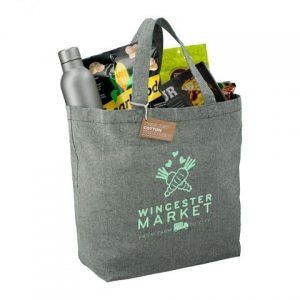 Cotton tote bags have been making a big comeback this season. Everyone is looking for reusable tote bags since they are easy to use and cute to style. Every brand seems to have their own collection of cotton totes, so how do you set yourself apart? Simple, you add some flare! Our Recycled Cotton Twill Tote is perfect for an eye-catching tote bag that's also easy on the planet!
We love this tote since it is made from 70%-80% recycled cotton and 20%-30% PET. The combination gives this bag a heathered look, that is soft to the touch and lightweight. This tote is also an eco-friendly option and gives back to nonprofits dedicated to helping the planet with 1% For the Planet. This organization donates 1% of profits to various nonprofits that are actively trying to help the planet and the climate crisis.
Our staffer Mary took our Recycled Cotton Twill Tote bag out with her for the day, and she had a lot to say. "I took this tote bag with me on a normal day, and I thought it was perfect for carrying my essentials. I think it's a really good size for everyday, but I would be nervous about adding a lot of weight to this material. I think it's more suited to light errands."
This bag comes with a cardboard bottom board that gives the bag more structure and stability for all your needs. "The bottom board was a nice addition, and I liked how it wrapped with the same material as the bag over the cardboard material. It was really helpful to give the bag some shape and make it easier to carry. Be careful about getting it wet though, since it can get flimsy and breakable."
This Recycled Cotton Twill Tote is a great for simple days when you want to enjoy your time. It's a great size for light errands and has a stylish look that will capture people's eyes. The natural look and feel of these tote bags are aesthetic and will be a great background for any logo or design you might have.