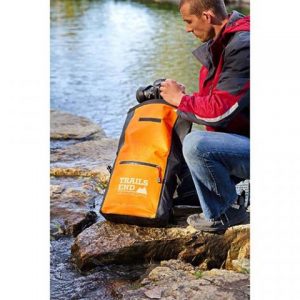 When we say custom utility tote bags, what do you think of? We think of utility totes like giant tote bags that can carry everything you need, plus extra! They're big enough to pack all your groceries and make a perfect home in your car. We love packing all our essentials in a utility tote and hitting the road!
These custom utility tote bags are great for groceries, but we also love them for everything in between. They're great for an outdoor sports practice, or a big event where you need to bring everything back and forth. Having something big helps cut down on time packing and unpacking, coming and going.
One of our favorite custom utility tote bags is our Large Utility Tote! This huge bag can hold it all and has sturdy handles to bring it everywhere. The wire rim helps give this tote the structure you need to perfectly pack all your things. There is a ton of space inside this tote and it would be perfect for any outdoor event.
If you're looking for something more suited to a long journey, try our Store-Flat Thermal Tote. This insulated tote features a dual zipper closure which is perfect for storing your foods and beverages. The webbed handles and pegged bottom help add sturdiness and support to this tote. The insulation is perfect for long hauls where things need to stay fresh. Our favorite feature is that when we're done using it, we can store it completely flat!
Another great custom utility tote would be our Large Mesh Tote. This tote is made of a mesh material and features webbed handles, a front pocket, side pockets, and an interior zip pocket. All these pockets are perfect for organizing all the smaller things you need. We love the mesh material since it perfect to use as a beach tote, or for any water sports activity. If you like this bag but it's a bit too large, try our smaller Mesh Tote Bag! This bag is made from the same mesh material but is slightly smaller.
Last but certainly not least, we have our 25L Dry Bag Backpack! This dry bag is perfect for carrying all your gear and keeping it out of the elements. It has adjustable straps for a comfortable fit, along with watertight seams and zippered front pocket. The top of the bag rolls and buckles at the end to provide security for a long journey!
As you can tell, the sky's the limit with custom utility tote bags! These bags are perfect for big events or projects, or for more mundane and day to day tasks. We use these bags for everything we can, and love that they have features that make them stand out from the rest!