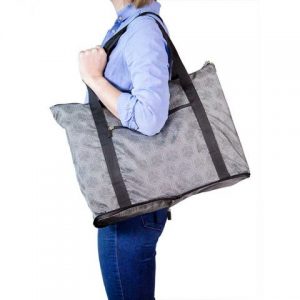 When we're gathering our things to get ready for the day, you can't forget are your custom tote bags. While tote bags are a cute accessory, with more and more plastic bag bans they're also a useful and practical tool to have in your tool box. Reusable tote bags are perfect for adapting to new changes and better alternatives.
You might not think of custom tote bags as a useful or practical, but we know how important they are. Having an eco-friendly option helps cut down on harmful materials and promote better alternatives to others. This is also a great way to get your logo or design noticed by people who may not have been aware of your brand before.
We love using these bags when we're out shopping for groceries or something more fun! One of our favorite custom tote bags is our Faux Cotton Nonwoven Square Tote. This bag looks like it's cotton but has the durability of a nonwoven polypropylene material. We love the flat bottom since it makes it easy to bag all our things.
If you're getting in those last few days at the beach, then our Bright Vinyl Tote Bag will be right there with you! These bright tote bags are made from a PVC plastic material and has a see-through quality that is perfect for the beach. The fun colors that the vinyl comes in only make this bag stand out more and give it a stylish look that everyone will be attracted to!
These bags are also perfect for bigger trips when you need something reliable to pack all your things. Our RuMe cFold Travel Duffle is the perfect travel bag. This bag folds into itself so it takes up minimal storage space when stored away. When you do need it, then this bag unfolds into the perfect travel bag. Its spacious enough for a weekend trip, but if you need a suitcase then this bag has a pocket that can turn into a sleeve to fit onto your luggage. Just unzip both sides of the pocket and it can be used as a sleeve that goes over your luggage handle.
Custom tote bags have so much variety that we could spend all day talking about them. They are perfect for any scenario that could come up and always handy to have. From material to size the options are endless and will leave you wanting more!