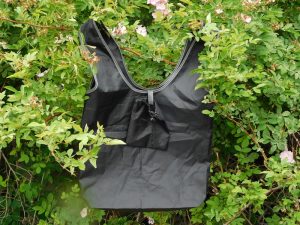 Who loves a durable folding tote? Certainly, most everyone! And if you're looking for a true workhorse, you'd be silly to overlook our Ripstop Collapsible Bag!
There is so much to love about this bag, and Deborah did an extended test to prove that point.
Her first stop with this bag in tow was the local store, where she stocked up on bottles of wine. While we recommend using a bottle bag for this (to avoid breakage from the bottles clanking together), she said it worked in a pinch, and held way more weight than she was expecting it to! The durability and construction make this her go-to bag for any store outing, from grocery to boutique and everything in between.
Deborah loves the size and structure of this bag. The 4" bottom gusset is great for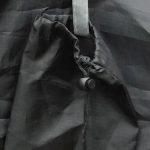 expanded space AND to hold more items easily (see bottles of wine, above). She also thinks the small attached pouch is the perfect size to stuff the bag into without effort—just stuff the bag and toss it right back in your purse or glove box for the next trip. You never know when a bag might come in handy, after all!
Ripstop is a great material for a utility bag, so Deborah also put the Ripstop Collapsible Bag through the wringer, using it in non-traditional ways: to haul picnic and beach items, linens, and even pet accessories! Her only negative comment was that she wished it came in a bigger size!
Parting thoughts? This easy to clean bag is THE one for moments when you think, "Oh shoot, I should've brought a reusable bag with me!" We have to agree, Deborah!
Buy Our Ripstop Collapsible Bag!
Item #:
39B2FTH1623
As low as:
$3.10
Minimum 50 pcs.
Includes one color logo.
Customer Rating: