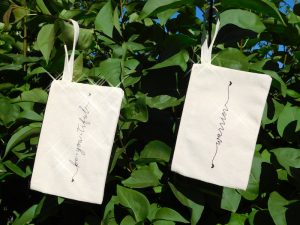 What do retail stores, food companies, and healthcare providers have in common? They all love our Colored Zipper Cotton Wristlet! So, we had Deborah, one of our staffers, do an extended test of this bag to see what all the buzz is about.
Well, for one…she loves the thick cotton canvas on this wristlet, and we couldn't agree more. After all, it is 10 oz, which is more than durable enough to withstand whatever you can throw at (in?) a small pouch (note: the colored cottons are 9 oz.). The imprint is high quality, and it overall just feels like a sturdy pouch that's going to last! 
In terms of size, Deborah was easily able to carry money, credit cards, ID, and her small cell phone with a little room to spare. What more do you need in a pouch that hangs on your wrist?
Speaking of that wrist-hangy thing, actually, she did think that the carry loop is a little smaller than the average wristlet. She has self-proclaimed "medium" hands, and it was a little snug getting the loop over her hand. Always the optimist, though, she also thought it was a positive thing because that meant the wristlet wouldn't slip off doing any crazy dance moves!
Finally the zippers. They open and close with ease, and they're sewn-in well. They're not flimsy at all, so Deborah feels confident that her stuff will stay put. Oh, can we also mention the zipper colors. Oh my! So many colors to make branding shine out loud. We just love this line!
So what do you get when you take a USA-made cotton wristlet, offer full bleed, seam to seam printing for no additional charge, and offer a choice of zipper color for no additional charge? You get the Colored Zipper Cotton Wristlet, of course!
Shop Our Colored Zipper Cotton Wristlet Now!
Item #:
37B5222NAT
As low as:
$2.08Minimum 50 pcs.
Includes one color logo.
Customer Rating: