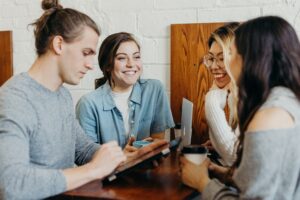 We know the power of promotional products. We can point to concrete examples and see the tangible impact that they can have for marketing a brand or message to almost any audience over decades. But with a Gen Z entering the workforce, many people are asking: is there still a place for promotional products? And if so, what do we need to know when marketing to this new demographic of employees and consumers? Well don't worry, because at Bulletin Brands we live and breathe promotional products, which means we have all the information you need to move forward with your marketing campaign. Let's get into it!
When thinking about marketing to a specific age demographic, it's important to understand what appeals to that group (the things they find important and meaningful) along with any useful trends that interest them as well. Now of course, these are sweeping generalizations about millions of people, so there are excepts to the rule, but for the most part here is what you need to know:
Health and wellness are essential. Among Gen Z and their younger counterparts, they value and prioritize wellness. This doesn't just mean physical wellness either. 64% of Millennials and Gen Z'ers reported emotional wellbeing as most important to their overall health. This group places an emphasis on emotional and mental health in their everyday life, and they value products that reflect that.
Home cooking is trending! Maybe it was the pandemic that required everyone to stay home, or the viral Tik Tok recipes that are shared daily, but Gen Z'ers enjoy trying new cooking and baking recipes at home. 53% of Gen Z'ers enjoy cooking and 71% would love to learn how to cook even more! Custom kitchen items that encourage them to try new things in the kitchen are a great idea. This trend goes hand in hand with the above point …nourish your body, mind, and soul through food!
Sustainability is non-negotiable. You've heard this before but we're saying it again …conscious consumerism is here to stay. Younger consumers value companies with transparency and who put people over profit. They demand better from the businesses they choose to support and the employer they choose to work with. Offering them products that align with their values is super important!
Keep it fashionable. Custom apparel is a great promotional product to offer this demographic, as it's a major tool they use to express themselves. One important factor to keep in mind: inclusivity. This means it's important to offer them options, like gender neutral clothing, a wide range of sizes, etc. Keeping in mind the points made above, that sustainably made, quality items are valued!
This is a hot topic that could be talked about for a long time, but these are a few of the most important points to know in our opinion. If you're looking for employee appreciation gifts, new hire company merch, retail gifts, marketing items, or anything in between, feel free to consult our team. We're here to help!