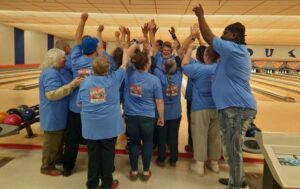 Each product that you see on our websites has been hand-selected by our team based on its quality and impact. We're proud of the custom bags we sell, and today we want to highlight a few that we really love. Our TradeWinds custom bags are not only incredible cotton bags, but they're made by an organization that we love to support!
You'll notice that we have two TradeWinds cotton canvas tote bags on our site, and both are simply incredible! They are made right here in the US by TradeWinds Services. This nonprofit organization provides training and employment to people with disabilities in order for them to accomplish their personal goals. They are a full-service agency providing services for people of all ages and backgrounds. Some of the amazing services they offer for children are all-inclusive childcare, kids' summer and winter camps, speech and occupational therapy in local classrooms, and so much more. For adults they offer activity programs during the day, pre-vocation services in packaging & assembly and order fulfillment, sewing manufacturing, sign shop, employment services, supported living homes, and more. This organization provides truly meaningful and needed support in their local communities.
For over 50 years they have been helping their participants reach new goals and have continued to meet the increasing need for these services. They make a direct impact in so many lives in the Northwest Indiana community. We're proud to support this organization and can't recommend their bags enough. So, let's talk about the bags!
The TradeWinds Custom Canvas Tote is USA-made by TradeWinds Services and their participants. It's made of high quality 12oz 100% cotton canvas and has a large imprint area for your personalization! It has 26" shoulder length cotton-webbed handles and can be printed in full color and/or full bleed! It truly has everything you could want out of a cotton tote bag.
The Vertical TradesWinds Custom Canvas Tote offers the same great features as the bag mentioned above, but it's aligned vertically instead of horizontally. Pick between these two great bag options for your design vision. Our team is here to help you figure out which one is best for your project!
If you have any questions, please contact our team!