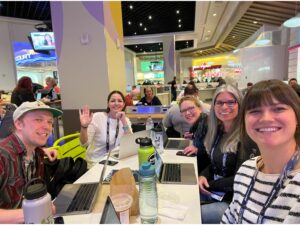 Last month the Bulletin Brands team packed our bags and flew across the country to Las Vegas to attend the PPAI Expo Conference. This conference is held in Las Vegas every year, and our team has been attending this conference since 2005! After 2 years of not attending in person, we were so excited to be at this year's event.
The 2023 PPAI Expo had a variety of education workshops and seminars to attend, taught by industry leaders and experts in their specific fields. It had a 230,000 square foot convention center filled with vendor booths showing off their latest and greatest product lines. It had networking events, games, custom promo products (of course!) and so much more. We had 4 days of enjoying the conference and everything it had to offer. We headed back to the east coast with tons of ideas and a burst of creative energy for the year ahead!
Not only did we have some great takeaways from the seminars, and we also walked that 230,000 square foot tradeshow floor to connect with our existing vendors and to check out some new ones! We were blown away by the amazing products that our vendor had to offer, and we spent days inspecting each one, making notes, and researching products to find the best ones for our clients. We can't wait to show you all the new products that we'll be adding to our sites soon. We know that these products are not only practical items for you and your clients to enjoy, but they'll make a meaning impact for your marketing efforts as well.
Overall, our experience at the PPAI Expo Conference this year was amazing! We are grateful for the opportunity to connect with other players in this industry, see old friends, explore new products, and witness firsthand how impactful this industry is on a larger scale. Promotional products are creative, fun, and most importantly …they work!
If you'd like to see more of our experience in Las Vegas at the Expo, head over to our Instagram page and click on the Las Vegas highlight!