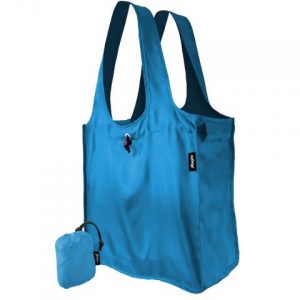 Promoting and living a healthy lifestyle is something that more and more people are working towards. While you're improving your health, you can also improve the environment. Eco-friendly bags are perfect for your new schedule and for reducing single-use plastics. This change will benefit you in the long run since a healthier Earth means a healthier you!
Eco-friendly bags in our mind are any bags that you can use to replace single-use plastic bags. These eco-friendly bags can be made from any material and used for any purpose! We love reusable bags when we're travelling, going shopping, or to any event where we need to bring some items. They're also perfect for events or project where you won't want to carry everything in your hands.
One of our favorite eco-friendly bags is our rPET Classic Zippered Tote. This tote bag is made from plastic bottles which adds a level of sustainability to this tote. We love the sturdy feel and how easy it is to use this tote every day. The large main compartment has a zipper opening along with a slash pocket in the front and interior zippered pockets. We love that this tote has a classic look and feel along with the option to print in full color!
If you need an eco-friendly bag that will also take up little space, we suggest our Bagito Deluxe Grande! This bag holds so much stuff! The rPET material is thin but also super durable with a reinforced collar and double stitching. There is also a hook which is perfect to attach to a purse or keys! The best part about this tote is when you're done using it there is a stuff sack built into the bag so you can store it away!
Eco-friendly bags don't have any limits! That includes our Recycled rPET Fanny Pack! Fanny packs have surged in popularity again and everyone wants a fun hands-free bag. This fanny pack features a zippered main compartment along with full color printing! The belt extends out to 47 inches and has a buckle closure that's easy to put on and take off.
We think focusing on sustainability is important for the future. Eco-friendly bags are a great option when you're trying to make positive changes for a better future. Having bags that are made from recycled materials only helps spread the message of sustainability farther!