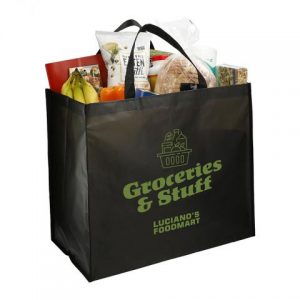 Bag materials are always important when you're trying to find the perfect match for your next upcoming project. Polypropylene bags are just one of many different materials used, but if you ask around some people would say they make the best reusable bags. There's a good reason for it too!
Polypropylene bags are a great option for material since they are low cost and relatively durable. Polypropylene bags can also be woven or nonwoven, however woven polypropylene bags are not as common as nonwoven. We love that these bags can be made from recycled materials and that they allow a wide variety of imprint options like screen printing or heat transfer!
If you need a bag enough to carry enough stuff for a crowd, try our Double Matte Laminated Jumbo Grocery Tote. This gigantic nonwoven polypropylene tote has enough room for everything you need, and the stuff you don't! The double lamination allows you to easily wipe down the inside and outside of this bag for cleaning. We love the structure this bag has, which is improved by a supportive bottom board.
If you're looking towards a size more geared towards smaller shopping trips, try our Faux Cotton Nonwoven Shopper. This laminated tote is a more manageable size that has been colored to look like a cotton canvas bag! The front slip pocket is perfect for organizing receipts or other papers and for displaying your logo or design in full color!
Polypropylene bags don't have to be rigid; you can also have fun with them! Our Folding Snap Nonwoven Tote is a great example of this! We love that this tote bag will fold into its own pouch when you don't need it. The design also allows your front pocket imprint to also be displayed when in use and not!
If you need bags you can rely on, polypropylene bags are the way to go! This lightweight material and lower price point allow you to buy tons of these bags in bulk, and won't have to worry about blowing your budget. We love polypropylene bags and we know you will too!!