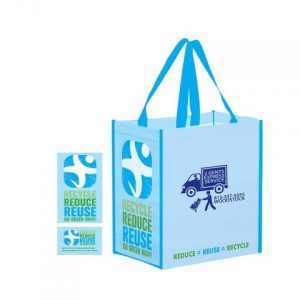 Recycled materials can be used to make a variety of bags. We love bags made from recycled materials since they are a more sustainable option without sacrificing quality. You may think that bags made from recycled materials only have one style or feel but think again! These bags can be made from a variety of recycled materials, giving each bag its own look and feel.
Bags can be made from recycled cotton, recycled polyester, or recycled PET. All these recycled materials create endless options for different styles of bags. We love that having bags made from recycled materials doesn't mean limiting your options or sacrificing design. Let's talk about some of the styles that these bags come in.
Probably the most popular of styles for recycled materials would be a folding bag. These types of bags fold up and store away while saving space. Our PET Folding Carry All is a perfect example of this. There is an attached pouch with rope closure so that you can fold your bag up and put it away. We love the wide variety of colors that this bag comes in, and the full color printing is perfect for a bright logo or design.
Another style of bags would be laminated bags! Having a recycled laminated bag is perfect when you need a bag that's easy to clean but strong enough to carry all your things. We love our Laminated rPET Grocery Tote. This tote is big enough for a trip to the grocery store while also promoting an eco-friendly lifestyle. The gussets on these bags feature a stock design that helps promote a more sustainable lifestyle for all those around you.
Finally, if you still are looking for a bag with a stylish look then try our Divided Recycled Canvas Gift Bag. This gift bag can also be used as a wine bag when you need it, with elastic holders on the inside of the bag to keep bottles in place. If you're not carrying wine, this cotton bag is perfect for any small gifts or shopping trips. The colored accents on this bag gift it the perfect amount of pop and can help compliment your full color logo or design!
Getting bags made from recycled materials doesn't mean you have to limit yourself and what you want. As you can see, you can have all of the stylish options you love while also being eco-conscious for the future.