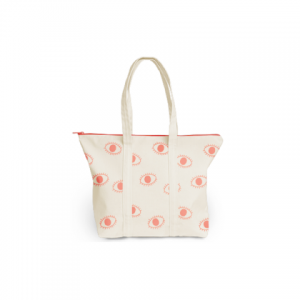 Let's talk about one of the most important things you do during the week, grocery shopping. We can't help you find the correct aisle, but we can help make sure you have a great reusable bag for your trip. Our cotton canvas grocery bags are the perfect combination of function and style.
Cotton canvas grocery bags come in all shapes and sizes, meaning that there is a perfect bag out there for you! If it's a big trip or small, cotton canvas grocery bags always come in handy. Even for everyday use, cotton canvas grocery bags have no limit!
One great option for grocery stores is our Cotton Grocery Bag with Bottle Holders. This cotton canvas bag is great for any type of shopping and can hold it all. We love the 4 sewn-in bottle holders inside of this bag since it helps keep things in place and not get crushed. This bag can also be printed in full color, which will stand out against the natural cotton color of this bag!
If you want a bag that can be used every day for anything, then try our USA Made Market Sack! This bag can be used as a crossbody or a shoulder bag thanks to the long handle. There's tons of room inside this bag, making it perfect for your everyday errands and activities. We also love that it is made in the USA and has a large imprint area so that you can get the most out of your logo or design.
What if you want a bag that is as fun as you are? Then we suggest our Large USA Made Colored Cotton Tote! This bag is the colored cotton version of our Large USA Made Colored Zipper Tote. The difference is that this bag you can choose from so many amazing colored canvas options. This is a great way to have a pop of color while also still getting all the advantages of cotton canvas grocery bags. There are so many color options for this bag, and you can even customize the color of the zipper that keeps this bag closed and safe.
Cotton canvas grocery bags are a great option when you want a bag that has form, function, and style! They're perfect for trips to the grocery store or famers market, and these bags are so stylish you could use them as everyday bags. We love cotton canvas grocery bags, and we know you will too!