We get a lot of inquiries about recycled shopping bags, so we're highlighting two of our popular bags that are made with recycled materials. Both are made from PET.
PET stands for polyethylene terephthalate. It's a plastic resin and the most common type of polyester. You can find PET in many things, including food and drink containers. The great thing about PET is that it can be recycled and used again in new products…like reusable shopping bags!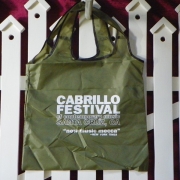 Our PET Folding Carry All is one of our most popular recycled shopping bags. Lightweight and compact, it's great to keep in your purse, glove compartment, or pocket for unexpected, quick errands.  Our staff tester said the PET Folding Carry All is sturdy enough to stuff with lots of things like workout clothes, papers, shoes, or light groceries.  She also likes that the handles are the perfect length to fit securely over her shoulder, and it tucks easily into the attached pouch.
The PET Laminated Striped Tote is another popular recycled grocery bag. This bag has a large gusset and features a laminated surface for easy hand washing.
Our staff tester said that she wasn't expecting to like the bag (she prefers cotton bags) but that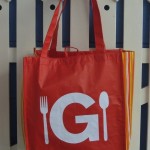 she was pleasantly surprised at how many groceries can fit in the bag. She also liked that it holds it shape, which makes it easier to fill at check-out.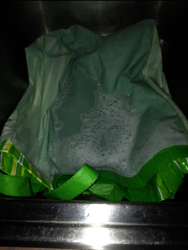 She also spilled some strawberries in the bag, and decided to put it through the washability test–one of the things she was most concerned about (since cotton is machine washable). She turned the PET Laminated Striped Tote inside-out, and put it in a sink filled with soapy water to wash. She dried it inside out completely, before righting it and drying the outside. The stains came out and the bag's still holding strong!