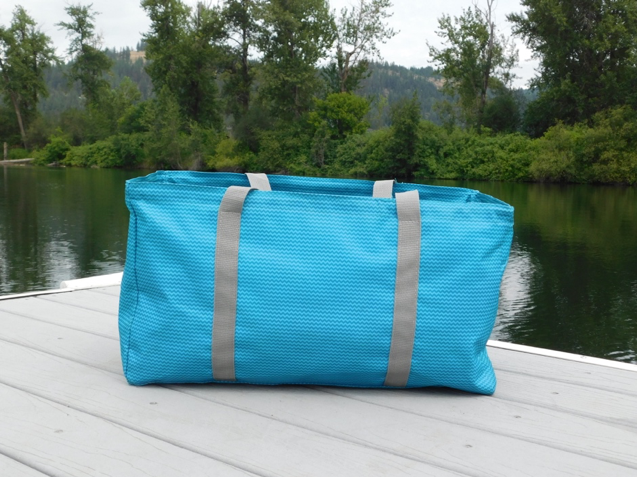 Whether your project calls for bulk reusable bags that you're going to resell, give away, or both…do we have the suggestion for you! How about a crazy-awesome tote that's meant to carry lots and lots of stuff?
Enter our Large Utility Tote. It has so much promise that TWO of our staffers have been testing it out! What's the verdict? Amazeballs!
Deborah says, "I LOVE this bag! The generous size allows for carrying anything I'd ever want to put into a bag, and more! I recently took this on a trip, and I could stow everything I needed for the beach–from my beach blanket to my camera, towels and sunscreen and food!"
The Large Utility Tote is a strong, durable bag. The substantial webbed handles run all the way down the sides for added strength, and they can be used as grab handles or shoulder straps. Metal wire rims the top edge, so the bag retains structure, but it also collapses on itself when empty, for easy storage.
Jennifer has been road testing this tote for over a year. She says, "This bag is one of my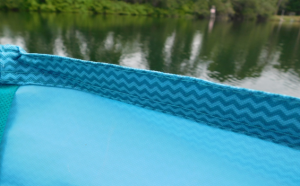 favorites for its multi-purpose utility. I can easily tote three gallons of milk and other quick-grab market items from shopping cart to car. The lining of the bag makes the condensation a non-issue. Likewise, at a place like Target, I can put contents matching the equivalent of 3-4 reusable bags into this one large tote! Currently I'm using it as my soccer coach bag—I've got a ball, 14 pennies, cones, first aid kit, white board, soccer boots, and Kleenex in there right now…and there's still room for a little more!"
If you're looking for bulk reusable bags anyway, why not consider the Large Utility Tote? This workhorse truly is a fantastic bag that your recipients, no matter who they are, will get tons of mileage out of, which means your messaging will go the distance as well!