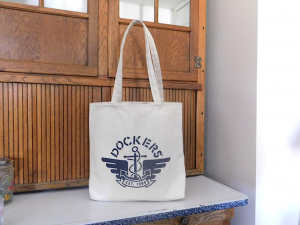 Does your must-have list for your latest project include a plethora of things that seem nonexistent in a USA made bag? No problem-o. We have the PERFECT bag for you…our Made in USA Cotton Canvas Bag. Here's why, after all these years, it's still a favorite amongst our staffers and an all-around best seller.
1. It's made in the USA. Well, yeah…we talked about that already. But even before tariffs were a thing, clients tended to favor USA made cotton bags. And this one's union made and printed, which sweetens the pot amongst certain clients. The bag is cut and sewn to order, which allows us a little flexibility with customization. The downside to this is that the Made in USA Cotton Canvas Bag has a slightly longer lead time because of the custom nature of the bag.
2. You can choose the handle color. This bag is often constructed with self-material handles (which means the handles are made from the same material as the bag, in this case a durable 10 oz. cotton canvas). However, at no additional charge, you can also select from a wide range of colored poly-web handles to compliment your artwork and/or your organization's branding.
3. The imprint area is huge. That means you've got tons of room for messaging, art, or a big logo! There's no hiding your brand from this canvas!
4. And you can print in full color, too! Full color process printing (via heat transfer) isn't as easy to find on USA-made bags as you might think, but this one can take it! And it's beautiful when completed.
5. The bag is BIG. Truly. It's 18"w x 15"h with a 5" gusset. You can put anything in it, from groceries to beach-day necessities. Tote towels to the pool, or pack for an overnight trip. You get the idea—this bag can make it happen.
Whether your project calls for a bold statement, as Dockers did below or subtle messaging, your brand will stay on the minds of everyone that sees it on the Made in USA Cotton Canvas Bag. All of us here at Bulletin Brands tote them around, and when you see this bag in person you'll understand why!