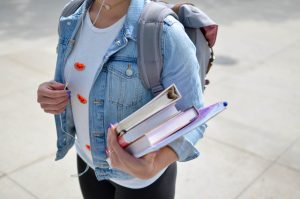 There's a lot of opportunities throughout the summer for launching your new promotional products but believe it or not the summer will soon be finishing up! It's important to think ahead and start planning for future projects to account for processing and shipping time. Although we like to highlight our custom bags here on the blog, we're bringing to you an all-encompassing list of Back to School essentials that include more than just bags, so you have it all in the one place! The end of the summer is a great time of year to release custom promotional product! These essentials are perfect for more than just the school year too. Bringing your employees back from a remote-work stint? Hiring a new round of staff? These items are perfect for you too!
At Bulletin Brands, we have 3 different branches of our operation: Bulletin Bag, Bulletin Bottle, and Bulletin Basics. We've compiled a list of products from all 3 sites to create your go-to List of Back to School Essentials! Read on below to find the perfect addition to your project!
25L Dry Bag Backpack – This heavy-duty backpack is built to last with heavyweight PVC and watertight seems. Ideal for students, staff, and employees to take with them wherever the year takes them – field trips, sports games, work trips, traveling, and more.
Lifestyle Backpack – this backpack is a classic! It has lots of storage space for all your school and office supplies and has a mesh pocket on the side for a reusable water bottle. It's a simple, classic backpack that's perfect for school and commuting to work.
Camelbak Eddy+ 25oz Bottle – We love this bottle because it has a screw-on lid with spill-proof bite valve and one-finger carry handle! Easy to carry around campus or the office and it won't be spilling during your class or meeting! Plus it's the name-brand you see at retail stores, meaning a high perceived value and versatile bottle you'll love!
Contempo Tritan Water Bottle – Tritan is a material that's made to last, and this bottle is no different! It's large capacity and fun colors make it perfect for students and employees to stay hydrated during their long days. Plus, it's USA Made!
Recycled Cardboard Spiral JournalBook – This journal is made from recycled cardboard which makes it perfect for sustainability initiatives in the office or on campus! Keep important calendar dates and contacts all in one place to stay organized. It's the perfect canvas for your back-to-school campaign!
Good Value 15" Laptop Zipper Compartment Sleeve – With more and more people using tablets and laptops in school and work, a customized laptop sleeve is the perfect promotional item to create some fun team spirit! It's an item everyone will utilize on a daily basis, and ensure their laptop stays in place while on the go.
Tablet Backpack – this backpack is perfect for keeping all your work essentials in one place. Tablet, phone, laptop, water bottle, notebooks and more can fit into this backpack with ease. Make the commute to school or work easy!
These are just a few of our favorite Back to School and the Office Items. Shop around all three of our sites to create the perfect promotional item for your organization. Whether you're an elementary school or a college, an established company or a start-up, these items are incredible useful for students and employees alike! Reach out to our team of knowledge staff with any questions you have!