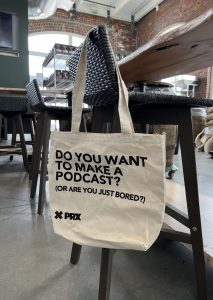 Believe it or not, we are halfway through 2022 already! This year is flying by, and our team here at Bulletin Bag has lots of projects and new products underway for the second half of the year. (Stay tuned!) Although we still have five months to go, we wanted to reflect on the first half of the year and share with you the top 5 custom reusable bags that have been the most popular. If you're looking for some inspiration for your upcoming project and you're not sure which bag is the best option, then look through this list for some ideas! These are popular for a reason!
1. Our Large USA Made Cotton Flat Tote made the top slot. This bag is an absolute classic. It's made of natural cotton material, making it a sustainable option for reusable bags while keeping the cost per bag low. It's a simple but trendy style that is extremely versatile! The large size is perfect for carrying all sorts of things! Plus, it does come in a smaller size if you're not looking for all that space.
2. The Laminated Mini Gift Bag is a close second. Our Laminated Bags are a super popular category of bags, with this being the best seller out of the bunch. It's the perfect bag for so many occasions, just take a look at the 19 product reviews left by past clients of ours. It has a 5-star rating from everyone!
3. The Matte Laminated Gift Bag slides into third place! As we said, our laminated bags are a popular category, and you can tell! This bag has the curved corners just like our Mini Gift Bag, which makes it very trendy and popular! It comes in some fun colors and is overall a great, versatile bag. It's a crowd pleaser!
4. Insulated Grocery Bag – this bag is popular all year round! It keeps food cold or warm during transit. Check out the great reviews this bag has on its product page!
5. USA Made Cotton Flat Tote – this is a smaller version of the #1 most popular bag! Clearly this style of bag is a great seller! It's incredibly versatile and trendy! Perfect for people looking for a natural material.
These are the top 5 best-selling bags for 2022 so far. Do you think they'll keep their place in the top 5 by the end of the year? A few of these popular custom reusable bags are neck in neck, so only time will tell!