Bulletin Bag features a hand-picked selection of custom reusable shopping bags. Our bags come in a variety of colors, designs, and materials to pair with your unique brand identity. Our custom shopping bags are sold in bulk at price points to fit any budget. Bulletin Bag custom bags comply with all CPSC and CPSIA guidelines for safety. Click for more information on custom bag product safety.
Featured Custom Shopping Bags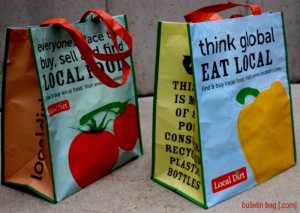 "You know those laminated Whole Foods bags? Do you make those?" We have a lot of conversations that start out this way. (Psst…the answer is yes!). Bulletin Bag currently offers custom laminated bags in 13 stock sizes, and with several material options (some are even insulated). Additionally, we can make any of our custom bags in ANY shape, size, or material!
Remember that the lead-time is much longer for these bags than for our stock bags. What's the difference? Stock bags have an imprint area that your art needs to print within, while custom laminated bags print from seam to seam on all surfaces of the bag. The minimum order quantity is 2500 bags for custom laminated bags, but the end result is worth it for a lot of clients. After all, it's your messaging in full color, on all surfaces of the bag! Continue reading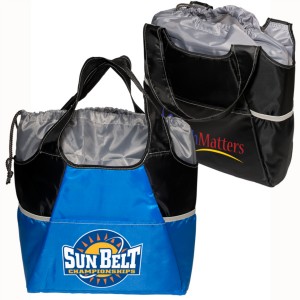 Any custom insulated grocery bag fits the bill for a useful, practical giveaway or promotion. This holds especially true for our newest addition to this category. You've probably never seen an insulated bag quite like this before!
Joining together the utility of an insulated tote with the convenience of a cinchpack, our Insulated Drawstring Tote is unlike our other thermal bags. Its unique V-shaped gusset makes storing easy, as it lays fairly flat when not in use. The generous size ensures that most everything you need for a day on the boat, beach, (or grocery store!) can fit inside. Continue reading