Bulletin Bag features a hand-picked selection of custom reusable shopping bags. Our bags come in a variety of colors, designs, and materials to pair with your unique brand identity. Our custom shopping bags are sold in bulk at price points to fit any budget. Bulletin Bag custom bags comply with all CPSC and CPSIA guidelines for safety. Click for more information on custom bag product safety.
Featured Custom Shopping Bags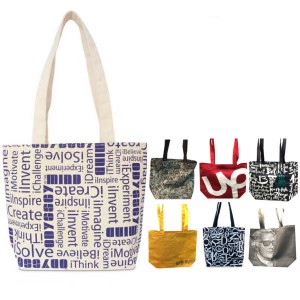 There are many ways to make your bag project unique, from innovative imprint designs to fully custom laminated bags. However, not every client needs 2500 bags or can wait for 90 days. We also have lots of clients who want to source locally. That's why it's so awesome to be able to customize made in USA bags!
Think you're limited by choosing a cotton or recycled fabric bag? Think again! Since these bags are made to order, the lead times are less, the minimum quantity is smaller, but you're definitely not scrimping on ways to leave your mark. Here are six ways to customize made in USA bags to fit your unique brand: Continue reading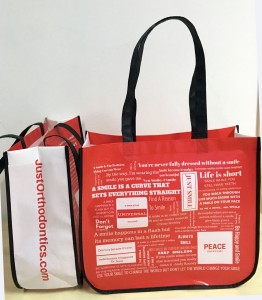 It used to be that the iconic Luluemon bags were exclusive to the brand. But, manifesto designs aren't just for Lululemon bags anymore! Do you have a lot to say? Want to shout and whisper at the same time? Designing custom Lululemon bags with your organizations messaging as a manifesto could be the perfect option!
Our custom Lululemon bags have grown exponentially in popularity over the past few years, and the super-creative ways our clients promote their organizations with these bags has become inspiring! Continue reading