Bulletin Bag offers a hand-picked selection of custom reusable bags featuring a variety of colors, designs, and material choices for your unique brand identity. Our custom reusable bags are sold in bulk at price points to fit any budget. Bulletin Bag custom reusable bags comply with all CPSC and CPSIA guidelines for safety. Click for more information on custom reusable bag product safety.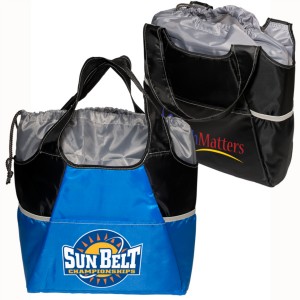 Any custom insulated grocery bag fits the bill for a useful, practical giveaway or promotion. This holds especially true for our newest addition to this category. You've probably never seen an insulated bag quite like this before!
Joining together the utility of an insulated tote with the convenience of a cinchpack, our Insulated Drawstring Tote is unlike our other thermal bags. Its unique V-shaped gusset makes storing easy, as it lays fairly flat when not in use. The generous size ensures that most everything you need for a day on the boat, beach, (or grocery store!) can fit inside. Continue reading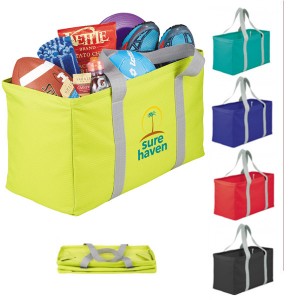 We mean it when we say we listen to our clients. If you want something that we don't offer, we try to find it. If enough people ask, we make it a permanent fixture on our site! Our all new custom utility tote is one of those great additions!
Our Large Utility Tote is all business. It will take your load from the car to wherever you are heading—vacation, beach, sports practice, you name it. Don't worry, the spacious compartment can handle all your gear, because its wire rim keeps the tote's shape and adds sturdiness. Continue reading