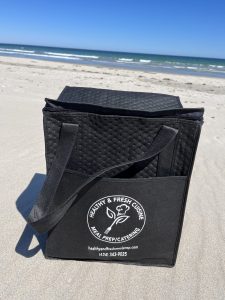 Hi friends, it's Ashley. Bulletin Bag's Marketing Assistant and one of the biggest fans of the Therm-o Super Tote out there. (Read my full staff review here). I want to share with you all a story that happened to me last week, and how the Therm-o Super Tote came to the rescue.
You know when you haven't gone grocery shopping in a while, so you open up the fridge looking for something to eat and all you see is a jar of mayonnaise and a really wrinkly cucumber? (Or maybe that's just me …) Anyway, that was the state of my fridge last week. My partner was at work, so it was just me at home realizing that a trip to the grocery store was an absolute necessity that day. After I got off work, I grabbed my reusable shopping bags (my Therm-o Super Tote among them) and went outside to start my car and head to the grocery store. But when I tried to turn my car on, it decided not to start. If you know me, then you know that this is a pretty common occurrence unfortunately. As much as I love my car, she's not the most reliable. (Before you ask: her name is Daisy). Sitting there in my car, I was faced with a decision. Do I walk the mile to the grocery store in the 85-degree heat, or do I put off going to the grocery store for yet another day? Remembering the state of my fridge, I got out of the car and started walking.
At the store, I got a few bags of frozen vegetables, frozen fruit, and lots of produce. I've used my Therm-o Super Tote for grocery shopping before, but it was about to be put to the ultimate test: a mile-long walk back to my apartment in the sun and heat. To be honest with you, I wasn't sure what the state of the frozen goods would be when I returned home. The whole walk bag I wondered if the insulated bag was holding its end of the bargain.
When I got home, I was so happy to see that all the frozen food I purchased was still frozen and in great shape! The Therm-o Super Tote completely exceeded my expectations. I knew I should have never doubted it, since it had performed so well the last few months that I've been using it while shopping. I couldn't believe that even after a 20–30-minute walk in the sun, my food was in perfect condition.
As you can tell, this is a love letter to the Therm-o Super Tote and is my personal recommendation for it. If you're on the market for a classic insulated bag, this should be your go-to. Plus, it's a great looking bag! I love the classic black color and the front pocket is the perfect little canvas for a logo. Enjoy!