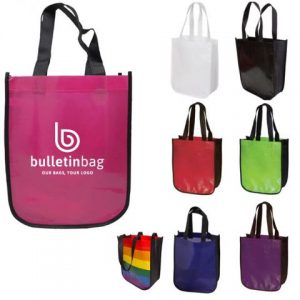 Being a dentist or dental assistant can't be an easy job. You see tons of people a day and help people get pearly whites, but you can't go home with them to make sure they're brushing twice a day. That's why you give out dentist bags! Toothbrush, floss, toothpaste, and more all conveniently packaged for people to take home.
Dentist bags can be as simple or as intricate as you want them to be. Your customers will appreciate the extra attention and care you put into finding a quality bag for them. Let us show you some of your favorite dentist bags and why we love them!
We're going to show you three of our favorite dentist bags, but don't forget to check out our Dental Bags category if you want more options! The first bag we're going to show you is our Small Nonwoven Die Cut Flat Bag. This flat bag looks more like bags you would see at trade shows or medical offices and features heat-sealed seams and die-cut handles. We love how large the imprint area is and with full color printing you're bound to be noticed!
One of our most popular styles for bags is lululemon style bags. These laminated bags with rounded edges have taken over the world in popularity. You can read more about lululemon style bags here! We have several lululemon style bags on our website but one we want to talk about is our Laminated Mini Gift Bag. This gift bag features non-laminated gussets and handles but a laminated front and back area. This bag also has the option to be printed in full color and full bleed!
We also think that dentist bags can include bags that your employees would love as well as your clients. Our Grab It Lunch Bag is a great as a gift or for any clients that want something extra! This lunch bag has a front flat that shuts with a hook and loop closure and features a front pocket and carry handle. We love that the handle has a nice pop of color that matches the bag.
Dentist bags are like goodie bags after an appointment. While the gifts may not be party favors and candy, it's something important for everyone to have. Giving out quality bags is a nice touch that leaves your clients happy and satisfied!