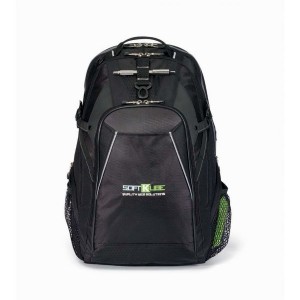 Last month we hinted at some expansion plans for our website, which—up until now—has featured only custom reusable bags. We are thrilled to announce that this week we added the first of FIVE (!) new categories—custom promotional backpacks!
Backpacks are the first addition to our expanded product offering in response to our clients' feedback. You wanted everyday packs, business cases, and laptop backpacks for school, work, play, and…life!
Lifestyle backpacks are great for both giveaway and resale marketing projects. Schools, summer camps, and businesses all benefit from promoting their name on backpacks that are sure to be used over and over again by any recipient. Our everyday backpacks are tough, yet lightweight, and can be used to tote just about anything!
We have selected our laptop backpacks with business and travel in mind, so of course they all fit a laptop in their padded main compartment. These backpacks are nicely appointed with pockets and pouches for tech accessories, phones, and MP3 players. Some even have an added compartment for a tablet, for the ultimate in tech portability! Two of our backpacks are TSA friendly and lay flat when unzipped. Marketing teams love these backpacks for high-end business giveaways and promotions. Human resource teams love them for new hire paperwork and trainings. And the lucky recipients are proud to carry them.
All of our backpacks can be printed in spot color or full color. But for the ultimate in longevity, they can also be embroidered! Whatever backpack you choose, whatever print method you select…your project will be taken to the next level with custom promotional backpacks as part of your marketing strategy!