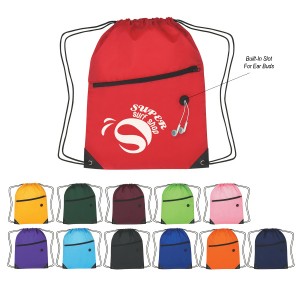 Bulletin Bag has been selling custom drawstring backpacks for a long time. The problem is, unless a client asked, they had no idea we offered them! We're excited to announce that has changed. We now have a category on our website just for drawstring backpacks!
There are so many options out there for drawstring backpacks—and it can be daunting to find the right one for your needs. That's why we have hand-chosen a selection of our most popular ones. Even though we offer them in price points for every budget, we didn't skimp on quality. Our drawstring backpacks are all made from durable 210D polyester. What does that mean? The D stands for denier, which is a unit of measurement that describes linear mass density. The higher the denier (when comparing like materials), the stronger and more durable the item.
What kinds of projects can you use custom drawstring backpacks for? Anything, really. The great thing about bags like these is that they're gender neutral and great for kids and adults (just make sure if you're shopping for children that you select a drawstring backpack that's been CPSIA tested—ask us for more information).
Schools and sports teams love to print their mascot on them to show spirit. Add a name strip to your artwork so they can be customized with a Sharpie! Gyms love drawstring backpacks for their members—both as giveaways and for resale. HR departments use them for health initiatives. Camps and churches use them to increase awareness. Employers hand them out at their summer picnics.
The best part about custom drawstring backpacks is that your message will be on display every time the recipient uses it (which will be often, because they're so handy!).
Affordability plus durable construction, bright colors, and fun styles equals a great custom bag that complements any project!