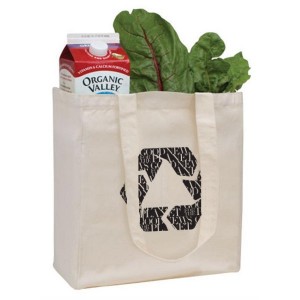 Custom printed grocery bags. If you live in California, you're going to start seeing a LOT more of them! Why?
On election day, voters in that state approved a state-wide ban on plastic bags! The ban took effect immediately (which by the way is pretty speedy government work, if you ask us!) and passed with over half the voters favoring it!
So why are custom printed grocery bags going to be a "thing"? Since the legislation requires consumers at grocery stores and many retail stores to bring reusable bags with them or pay to buy new recycled or reusable bags, everyone will start carrying them! That means that there's a huge opportunity for organizations of all types to use custom bags as a marketing vehicle. 
If you choose the right bag, it will become a go-to shopping bag, and your logo, message, or photo will be right there for all to see!
Likewise, there are lots of cool promotions that you can do with custom printed grocery bags. We've written somewhat extensively about this, but you can get some ideas here.
With this statewide ban also comes an opportunity for nonprofit fundraisers. You can find some information on that here and here.  We are firm belivers in super-useful promotional items, and what better item than a quality reusable bag for use in a state that requires them?
We are proud of California voters recognizing the need for plastics reduction, and look forward to seeing other municipalities and states follow suit! Have you used custom printed grocery bags as a marketing vehicle in California? Let us know!