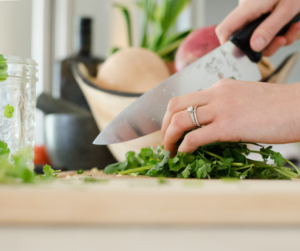 The holiday season is in full swing and with that comes parties, events, dinners, and more! Whether you're hosting or are a guest, having the perfect custom kitchen essentials make the holiday season go much smoother. They're perfect for gifts, employee appreciation, giveaways, and more this holiday season. We compiled a list of our favorite custom kitchen essentials from Bulletin Basics for you to check out. We have you covered for the big holiday dinner!
Peeler-Pal Vegetable Peeler – You don't realize how helpful these are in the kitchen until you have one! They are so helpful not only for cooking, but they're a great little canvas for your logo! This one has an extra-sharp blade in stainless steel and a large hanging hole for easy storage. Comes in 3 colors!
Therma-Grip Pocket Oven Mitt – These oven mitts are not only cute, but extremely useful in the kitchen! Pulling out the Thanksgiving turkey or the Christmas cookies from the oven has never been easier. These all-cotton mitts are a holiday go-to!
Perfection Cake & Dessert Server – There's never a shortage of desserts at a good party! Pies, cakes, and more are holiday classics and that means this server will be put to good use. Slice and serve with ease. It's serrated, non-crumble, cutting edge is also dishwasher safe!
Large Bamboo Cutting Board – Everyone needs a good cutting board, especially during the holiday season. This board is large enough for any kitchen recipe and is a stylish addition to any room!
Chef's Pocket Oven Mitt Bamboo Combo – This kit features our Therma-Grip Pocket Oven Mitt (mentioned above), our Bamboo Spatula, and Bamboo Spoon. This makes the perfect holiday gift! Customize each part of the combo with your logo.
We have a whole section of custom kitchen essentials on Bulletin Basics, check it out here. From cutting boards to kitchen utensils, apparel, food containers, and so much more. Plus, our insulated grocery bags make transporting food this season a breeze! Reach out to our team today to help get your project started! We're here to help answer any questions you have this holiday season and beyond!